Los Angeles
Sunday September 21st

, on International Day of Peace from

12 - 5pm
Come and join friends, family, and supporters of
EMERGENCY USA
in Santa Monica at
Crescent Bay Park
for our Under One Blue Sky kite. Our Los Angeles community is joining in a beautiful and lifesaving action, sending kites into the air with EMERGENCY USA as local events happen around the country to take back the skies for peace and heal the wounds of war.
Bring a picnic lunch and a blanket or beach chairs. In case you don't have a favorite kite to bring, you'll be able to purchase and decorate your own kite on the spot!
Under One Blue Sky in Los Angeles will feature: kite flying, live music, updates on EMERGENCY's activities around the world, and entertainment. The day is a great opportunity to mingle with other EMERGENCY USA supporters here in the Los Angeles area in celebration of EMERGENCY's impact in providing excellent healthcare in war-torn regions worldwide.
There is no cost to attend the event. If you plan on coming to Under One Blue Sky, please let us know by emailing us at
LA@emergencyusa.org
or by checking out
our event page on Facebook
.
Under One Blue Sky serves as a fundraiser for EMERGENCY USA. The goal of Team Los Angeles this year is to raise $5000 to pay for the equipment and operations to repair five broken limbs for patients arriving at EMERGERNCY's trauma hospitals in Sierra Leone and Afghanistan.
If you are interested in donating, please visit our team fundraising page.
In case you are inspired to join our Los Angeles team by starting your own fundraising page, please contact us at
LA@emergencyusa.org
for specifics or take immediate action
online here under the "Join this Team" option
. Welcome!
Event Archives ...
June 20 - 22, 2014
EMERGENCY USA Annual National Volunteer Conference

Hosted in Pasadena and South Pasadena, CA
Links to:
Special Topic 1: Health and Human Rights
Special Topic 2: Images and Social Change
FRAMING HOPE
A photographic exhibit and benefit event for EMERGENCY USA

When: Saturday March 1st from 3:00 PM - 7:00 PM
Where: Tah Gallery, 1015 Mission Street, South Pasadena, CA 91030

Framing Hope showcases an extraordinary assemblage of photographs by Maurizio Papalia documenting the suffering, resilience and grace of people he cared for as a nurse during medical missions for the international humanitarian aid organization EMERGENCY.

Beginning in 2004, Maurizio worked at hospitals located in Afghanistan, Sierra Leone, Sudan and Central African Republic, witnessing and directly participating in EMERGENCY's mission of providing free-of-charge, high-standard medical and surgical care to civilian victims of war.

Framing Hope forms a narrative revealing injustices and hardship faced by civilians in war zones, and also tells a story of positive action, profound solidarity, cooperation and grace between patients, families, nurses and doctors. Through his lens, Maurizio Papalia makes a case for choosing peace over war, healing over violence -- a compelling visual argument brought into focus by hope and authenticated by the photographer's experiences as a nurse.

We truly appreciate Maurizio's donation of his photographs. Proceeds from purchase of the photos during the event will be donated to EMERGENCY USA.

In case you would like additional information, and to RSVP, please email: LA@emergencyusa.org
December 7th - Art from the Heart
Presenting "Art from the Heart"
A silent art auction, fundraiser &
A Beautiful Expression of Holiday Spirit

LOCATION: Lady Between the Lines Los Angeles Art Agency 4625 Crenshaw Blvd, Los Angeles, California 90043
DATE: Saturday, December 7th TIME: 5pm - 12 midnight
RSVP Online: artfromtheheart2013.eventbrite.com
Contact: LA@emergencyusa.org
The inaugural "Art from the Heart" silent art auction fundraiser to benefit EMERGENCY USA is set for Saturday, December 7th at the Lady Between the Lines Art Agency, a beautiful 6000sf space in the historic Leimert Park district. "Art from the Heart" is simultaneously a call to awareness for EMERGENCY's medical humanitarian activities in conflict zones around the world, and a beautiful expression of holiday spirit through support of lifesaving work, a culture of peace and respect of human dignity.
At 5pm, guests enjoy a pre-auction screening of the unforgettable documentary "Back Home Tomorrow" directed by Fabrizio Lazzaretti and Paolo Santolini.

The main event, silent auction of fantastic art items, starts promptly at 6:30pm.
Also scheduled: DJ playing world music and contemporary genres, live performers, cash bar, food for sale.

Art from the Heart will feature a silent auction of more than 30 objects of art contributed by artists and luminaries such as:

Nafisa Abdullah
Paola Barcaccia
Terri Bromberg
Grant Buckerfield
Jerrold Burchman
Linda Carpenter
Ronn Davis
DCastro
Giles Duley
Masoud Farand
Markus X Farina
Isabel Fowler
Tracie Garacochea
Gil Garcetti
Don Hartman & SMC Art Dept, Sculpture
Phil Kim
Yumi Kiyose
Flora Kao
Linda Kunik
Marilyn Lagrone-Amaral
Drica Lobo
Tom Lundquist
Candace Mammarella
Amanda McCauley
Ameeta Nanji
Ofunne Obiamiwe
Sir Alan Parker
Ana Rodriguez
Jason Saunders
Noelle Siart
Gale Tattersall
Brennan Wheeler
Marian Winsryg
Eve Wood
Sandra Zebi
---
---
Los Angeles (Pasadena), CA May 24th - 26th
The EMERGENCY USA National Conference
LINK HERE TO NAVIGATE TO THE DETAILED CONFERENCE AGENDA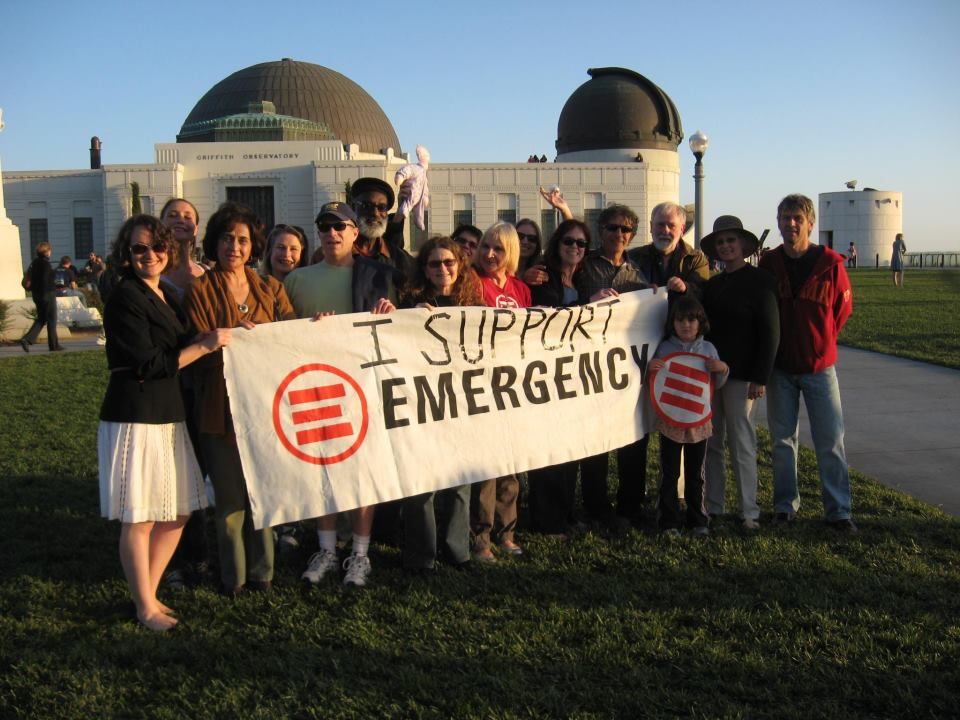 Special Los Angeles Screening of Back Home Tomorrow
Hosted by Conscientious Projector
At The Armory Center for the Arts
145 N. Raymond Ave, Pasadena, CA 91103

Special Los Angeles Screening of Open Heart
3:00 P.M. on Sunday, December 2nd, 2012
The Ray Stark Family Theatre, SCA 108
900 W. 34th Street, Los Angeles, CA 90007
Q&A with Kief Davidson after the screening

June 16, 2012 ... 7 PM
An evening to remember, a cause to celebrate with actions of significance and beauty!
LINK TO EVENT WEBSITE: reserve your tickets by donating $25 per guest