Los Angeles
Save the Date! June 20 - 22, 2014
EMERGENCY USA National Volunteer Conference

Pasadena and South Pasadena, CA
Summary of the conference schedule.
Friday June 20th, 7pm: benefit dinner at Shaker's Restaurant in South Pasadena.
Saturday June 21st 10am - 5pm: conference presentations at Garfield Youth House, 625 Stratford Ave, South Pasadena.

Overview of International Programs that EMERGENCY USA Supports
Human Rights and Health, Photography and Social Change
Orientation for Volunteers

Saturday June 21st 6pm: benefit dinner at Azeen's Afghani restaurant in Pasadena
Sunday June 22nd 10:00am - 12:00pm: final conference presentations hosted at Private Residence in South Pasadena
Sunday June 22nd, 12:30pm - 3:00pm: luncheon, social and good-byes. Hosted at private Residence in South Pasadena
CLICK HERE to view the full conference agenda.
Note that the dinners on Friday and Saturday are "self-pay." The restaurants will donate a percentage of dining proceeds to EMERGENCY USA.
Event Contact: email LA@emergencyusa.org in case you have any questions.
Looking forward to seeing you there!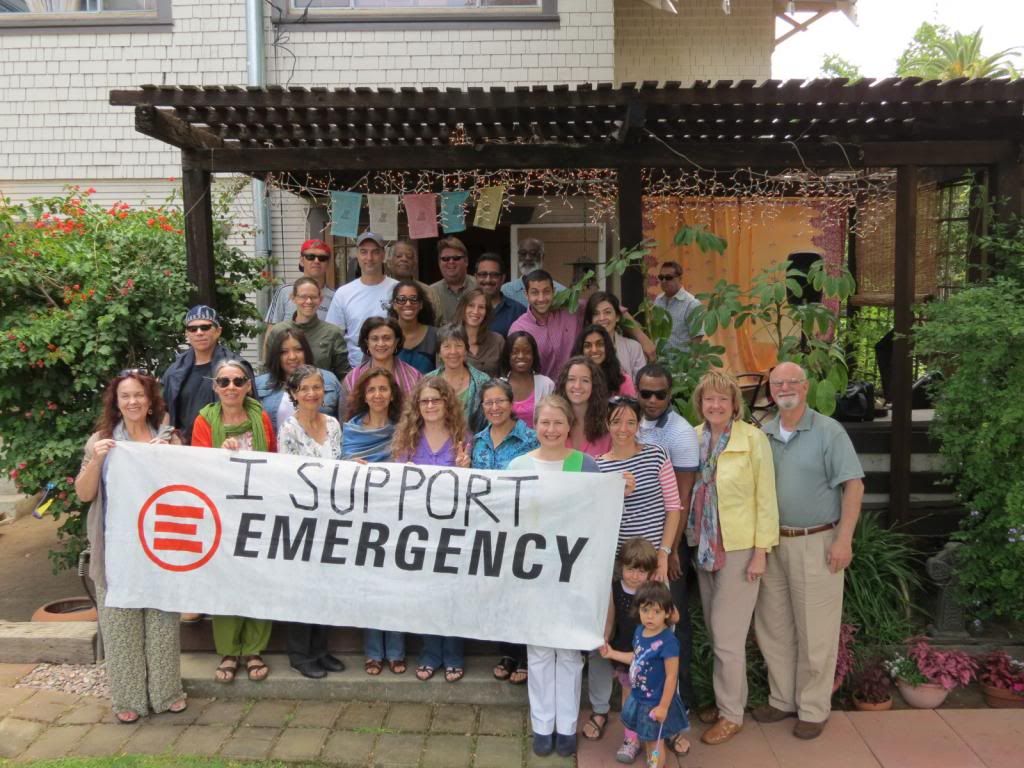 Event Archives ...
FRAMING HOPE
A photographic exhibit and benefit event for EMERGENCY USA

When: Saturday March 1st from 3:00 PM - 7:00 PM
Where: Tah Gallery, 1015 Mission Street, South Pasadena, CA 91030

Framing Hope showcases an extraordinary assemblage of photographs by Maurizio Papalia documenting the suffering, resilience and grace of people he cared for as a nurse during medical missions for the international humanitarian aid organization EMERGENCY.

Beginning in 2004, Maurizio worked at hospitals located in Afghanistan, Sierra Leone, Sudan and Central African Republic, witnessing and directly participating in EMERGENCY's mission of providing free-of-charge, high-standard medical and surgical care to civilian victims of war.

Framing Hope forms a narrative revealing injustices and hardship faced by civilians in war zones, and also tells a story of positive action, profound solidarity, cooperation and grace between patients, families, nurses and doctors. Through his lens, Maurizio Papalia makes a case for choosing peace over war, healing over violence -- a compelling visual argument brought into focus by hope and authenticated by the photographer's experiences as a nurse.

We truly appreciate Maurizio's donation of his photographs. Proceeds from purchase of the photos during the event will be donated to EMERGENCY USA.

In case you would like additional information, and to RSVP, please email: LA@emergencyusa.org
December 7th - Art from the Heart
Presenting "Art from the Heart"
A silent art auction, fundraiser &
A Beautiful Expression of Holiday Spirit

LOCATION: Lady Between the Lines Los Angeles Art Agency 4625 Crenshaw Blvd, Los Angeles, California 90043
DATE: Saturday, December 7th TIME: 5pm - 12 midnight
RSVP Online: artfromtheheart2013.eventbrite.com
Contact: LA@emergencyusa.org
The inaugural "Art from the Heart" silent art auction fundraiser to benefit EMERGENCY USA is set for Saturday, December 7th at the Lady Between the Lines Art Agency, a beautiful 6000sf space in the historic Leimert Park district. "Art from the Heart" is simultaneously a call to awareness for EMERGENCY's medical humanitarian activities in conflict zones around the world, and a beautiful expression of holiday spirit through support of lifesaving work, a culture of peace and respect of human dignity.
At 5pm, guests enjoy a pre-auction screening of the unforgettable documentary "Back Home Tomorrow" directed by Fabrizio Lazzaretti and Paolo Santolini.

The main event, silent auction of fantastic art items, starts promptly at 6:30pm.
Also scheduled: DJ playing world music and contemporary genres, live performers, cash bar, food for sale.

Art from the Heart will feature a silent auction of more than 30 objects of art contributed by artists and luminaries such as:

Nafisa Abdullah
Paola Barcaccia
Terri Bromberg
Grant Buckerfield
Jerrold Burchman
Linda Carpenter
Ronn Davis
DCastro
Giles Duley
Masoud Farand
Markus X Farina
Isabel Fowler
Tracie Garacochea
Gil Garcetti
Don Hartman & SMC Art Dept, Sculpture
Phil Kim
Yumi Kiyose
Flora Kao
Linda Kunik
Marilyn Lagrone-Amaral
Drica Lobo
Tom Lundquist
Candace Mammarella
Amanda McCauley
Ameeta Nanji
Ofunne Obiamiwe
Sir Alan Parker
Ana Rodriguez
Jason Saunders
Noelle Siart
Gale Tattersall
Brennan Wheeler
Marian Winsryg
Eve Wood
Sandra Zebi
September 21st 2013 - With Volunteer Groups Nationwide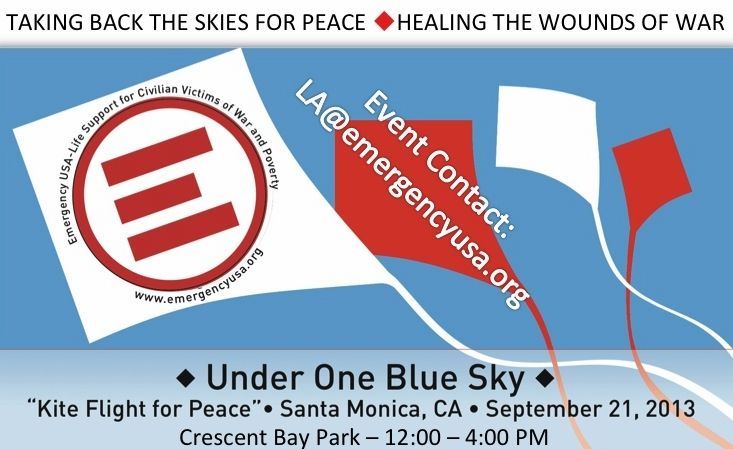 On Saturday, September 21, in Santa Monica, CA the Los Angeles volunteer group and supporters will be hosting outdoor events sending kites flying high! Join us in this celebration of peace, of hope and connection with children and families around the world.
RSVP for the event here: http://onebluesky2013.eventbrite.com/
Beyond the beauty and joy of celebration: we are taking action with significance by helping to heal the wounds of war.
Our goal is to raise $25,000. With these funds, EMERGENCY USA continues its lifesaving mission of supporting programs that are permanent and sustainable, centers of excellence rather than temporary facilities, that provide high-standard, specialized medical treatment -- free-of-charge -- to civilian victims of war in around the world. We support ongoing programs in places like Afghanistan, Central African Republic, Iraq, Sierra Leone, and Sudan.
Participate by joining or setting up a team on our Firstgiving page. Next, just spread the word, email and invite friends to join the event or to donate and become a champion for this great cause with you. On September 21, send a kite up with us (hint: picnics are also recommended).
Thank you for taking action in support of our mission!
---
---
Los Angeles (Pasadena), CA May 24th - 26th
The EMERGENCY USA National Conference
LINK HERE TO NAVIGATE TO THE DETAILED CONFERENCE AGENDA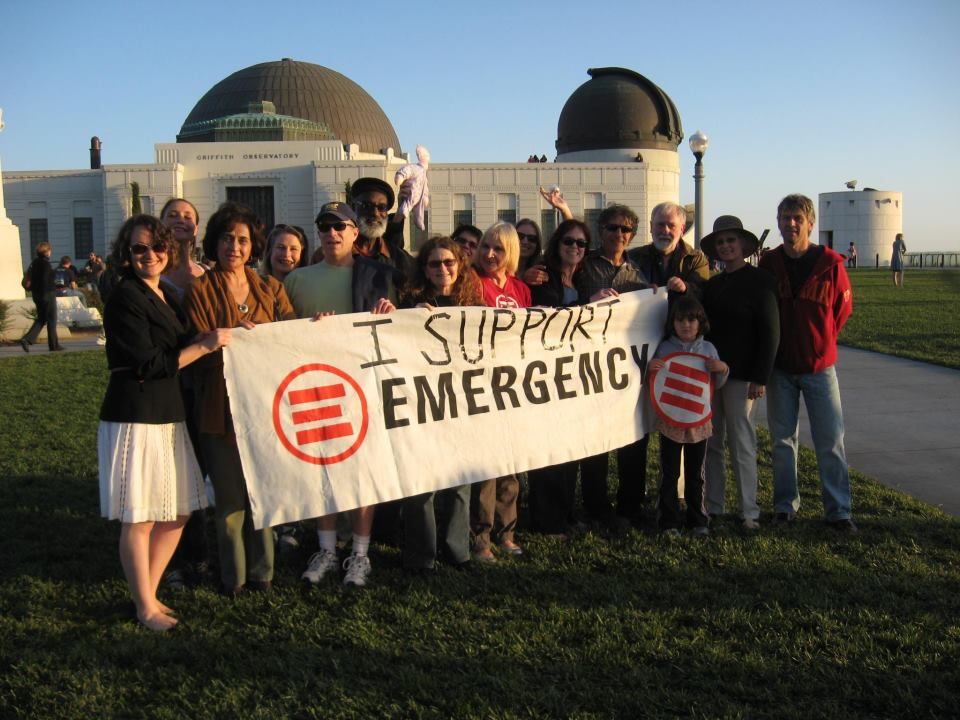 FRIDAY EVENING, May 24th, 7:00 – 9:00 PM
Conference Opening, Meet and Greet, & Charity Benefit Dinner
Location: Shakers Restaurant, 601 Fair Oaks Ave, South Pasadena, CA
Shakers is an old-style diner that is hosting a special Charity Night Event for E-USA. This event is open to the public, and anyone who indicates that they are there in support of EMERGENCY USA will have 25% of their meal payment dedicated towards a donation to E-USA. A section of the restaurant will be reserved for conference guests. Be sure to RSVP! Email LA@emergencyusa.org or Click Here for Online RSVP Form.
SATURDAY, May 25th 10:00 AM – 5:30 PM
MAIN CONFERENCE Presentations & Volunteer Training
Location: Pasadena Central Library in the Donald R. Wright Auditorium
Address: 285 East Walnut Street Pasadena, CA 91101
Parking: Free at the University of Phoenix Building, 299 North Euclid Ave (enter from Garfield Ave)
An agenda that is full, and fascinating. We'll be featuring footage from artist Massimo Grimaldi and from documentary film maker Masoud Farand. Amongst speakers to present: Dr. Nafisa Abdullah on the programs of EMERGENCY in Afghanistan, Dr. Ed Newton will speak about the programs in Sierra Leone, and Brooks Almy on her visit to the program in Bangui, Central African Republic. Shauna Ryann Carey will be presenting on non-profit messaging. Attendees will walk to restaurants nearby for lunch.
SATURDAY EVENING DINNER, 7:00 – 9:00 PM at Choza Mama Peruvian Cuisine
Address (Easy Walk from Library): 96 E Colorado Blvd., Pasadena, CA 91105
Click to RSVP! A section to be reserved for our group, and 10% of meal payment to be donated to E-USA
SUNDAY, May 26th 9:30 AM – 12:30 PM
CONFERENCE Final Presentations & Wrap Up
Location: Private Home in South Pasadena
Email: LA@emergencyusa.org for Address and Directions (Easy Walk from the Gold Line South Pasadena Station)
Final presentations for the conference will include the power of individual action, as well as a "how to" in community resource mapping for effective support of the mission of EMERGENCY USA.
SUNDAY, May 26th 12:30 – 3:00 PM
Sunday Afternoon Conference Luncheon
Location: Private Home in South Pasadena
Email: LA@emergencyusa.org to RSVP & Receive Address and Directions. Easy Walk from the Gold Line South Pasadena Station. The luncheon will include music, food, and celebration. The conference volunteers and guests will enjoy the last event of the conference weekend.

Special Los Angeles Screening of Back Home Tomorrow
Hosted by Conscientious Projector

7:00 P.M. on Thursday, December 13th, 2012
The Armory Center for the Arts
145 N. Raymond Ave, Pasadena, CA 91103
Fabrizio Lazzaretti and Paolo Santolini's beautifully made, emotionally resonant documentary focuses on the moving stories of two boys and their families, one from Afghanistan, the other from Sudan, whose devastated lives are changed by the dedicated, healing efforts of EMERGENCY's medical professionals.

EMERGENCY USA's Anna Gilmore will lead a community discussion.
Parental advisory: Film contains vivid images of wartime injuries and medical procedures.
Information: Marty Coleman, 626.792.4941 or Anna Gilmore, LA@emergencyusa.org

Special Los Angeles Screening of Open Heart
3:00 P.M. on Sunday, December 2nd, 2012
The Ray Stark Family Theatre, SCA 108
900 W. 34th Street, Los Angeles, CA 90007
Q&A with Kief Davidson after the screening
Eight Rwandan children leave their families behind to embark on a life or death journey seeking high-risk heart surgery in Sudan. Their hearts ravaged by a treatable disease from childhood strep throat, the kids have only months to live. Open Heart reveals the intertwined endeavors of Dr. Emmanuel, Rwanda's lone government cardiologist as he fights to save the lives of his young patients and Italian Dr. Gino Strada, the Salam Center's head surgeon, who must also fight to save his hospital, Africa's only link to life-saving free cardiac surgery for the millions who need it.
Reservations Required: LA@emergencyusa.org

June 16, 2012 ... 7 PM
An evening to remember, a cause to celebrate with actions of significance and beauty!
LINK TO EVENT WEBSITE: reserve your tickets by donating $25 per guest