Los Angeles
Special Los Angeles Screening of Back Home Tomorrow
Hosted by Conscientious Projector

7:00 P.M. on Thursday, December 13th, 2012
The Armory Center for the Arts
145 N. Raymond Ave, Pasadena, CA 91103
Fabrizio Lazzaretti and Paolo Santolini's beautifully made, emotionally resonant documentary focuses on the moving stories of two boys and their families, one from Afghanistan, the other from Sudan, whose devastated lives are changed by the dedicated, healing efforts of EMERGENCY's medical professionals.

EMERGENCY USA's Anna Gilmore will lead a community discussion.
Parental advisory: Film contains vivid images of wartime injuries and medical procedures.
Information: Marty Coleman, 626.792.4941 or Anna Gilmore, LA@emergencyusa.org

Special Los Angeles Screening of Open Heart
3:00 P.M. on Sunday, December 2nd, 2012
The Ray Stark Family Theatre, SCA 108
900 W. 34th Street, Los Angeles, CA 90007
Q&A with Kief Davidson after the screening
Eight Rwandan children leave their families behind to embark on a life or death journey seeking high-risk heart surgery in Sudan. Their hearts ravaged by a treatable disease from childhood strep throat, the kids have only months to live. Open Heart reveals the intertwined endeavors of Dr. Emmanuel, Rwanda's lone government cardiologist as he fights to save the lives of his young patients and Italian Dr. Gino Strada, the Salam Center's head surgeon, who must also fight to save his hospital, Africa's only link to life-saving free cardiac surgery for the millions who need it.
Reservations Required: LA@emergencyusa.org

Event Archives ...
October 14, 2012
June 16, 2012 ... 7 PM
An evening to remember, a cause to celebrate with actions of significance and beauty!
LINK TO EVENT WEBSITE: reserve your tickets by donating $25 per guest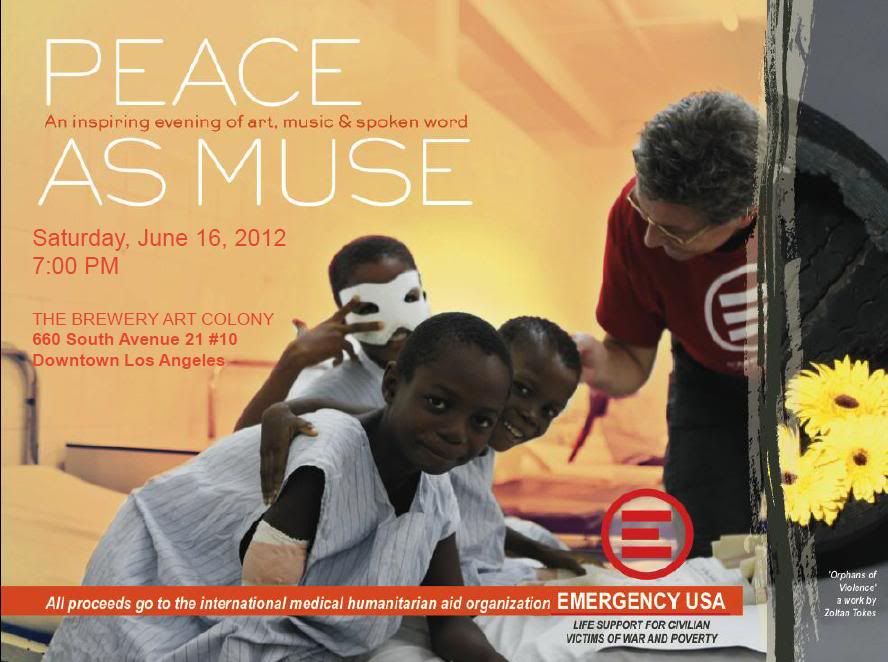 ---
---
2011 Under One Blue Sky!
Come, bring your kite, and join Los Angeles volunteers and friends at Seal Beach on October 2nd. What a beautiful and positive action: sending a kite skyward as a message of peace and support for kids in Afghanistan. As we enjoy this action locally, we are connected with many others doing the same across the U.S. and directly supporting high-standard medical and surgical care for kids and families in Afghanistan.
We welcome your support through a donation online: Event Donation Site for LA team.
Funds raised through this event will support medical and surgical care for kids and families of Afghanistan.
Where to Bring Your Kite: First Street Beach in Seal Beach
Link Here for River's End Cafe as reference Meeting Location & Parking Instructions
When to Go: Sunday, October 2nd, 2011 from 1:30 - 4:30 PM
Contact: LA@emergencyusa.org
Peace As Muse: June 2011