Events
Los Angeles (Pasadena), CA May 24th - 26th
The EMERGENCY USA National Conference
LINK HERE TO NAVIGATE TO THE DETAILED CONFERENCE AGENDA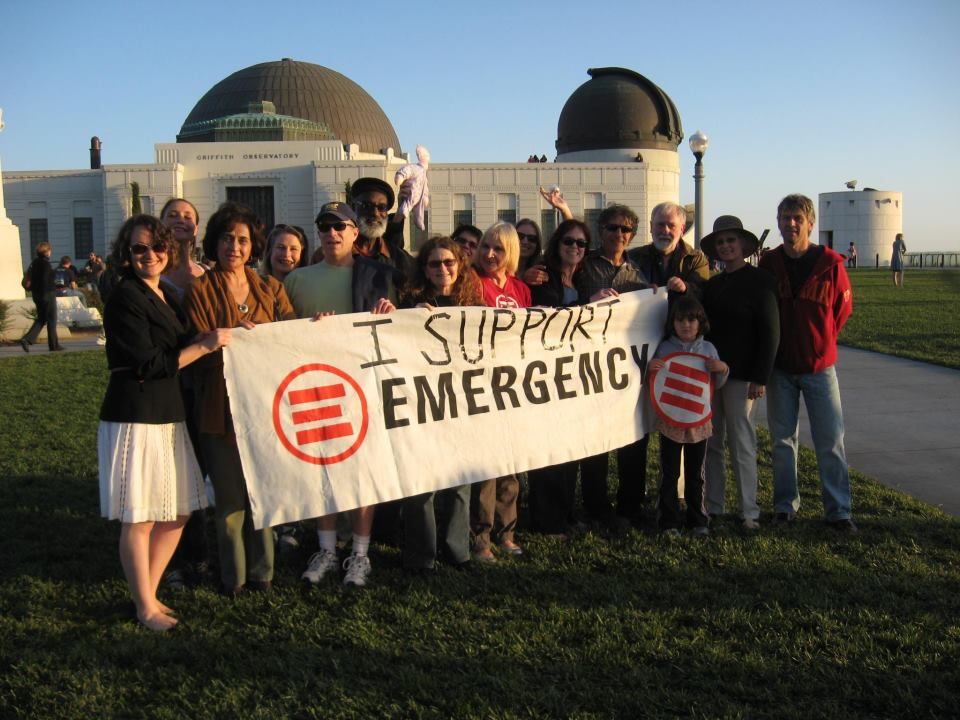 FRIDAY EVENING, May 24th, 7:00 – 9:00 PM
Conference Opening, Meet and Greet, & Charity Benefit Dinner
Location: Shakers Restaurant, 601 Fair Oaks Ave, South Pasadena, CA
Shakers is an old-style diner that is hosting a special Charity Night Event for E-USA. This event is open to the public, and anyone who indicates that they are there in support of EMERGENCY USA will have 25% of their meal payment dedicated towards a donation to E-USA. A section of the restaurant will be reserved for conference guests. Be sure to RSVP! Email LA@emergencyusa.org or Click Here for Online RSVP Form.
SATURDAY, May 25th 10:00 AM – 5:30 PM
MAIN CONFERENCE Presentations & Volunteer Training
Location: Pasadena Central Library in the Donald R. Wright Auditorium
Address: 285 East Walnut Street Pasadena, CA 91101
Parking: Free at the University of Phoenix Building, 299 North Euclid Ave (enter from Garfield Ave)
An agenda that is full, and fascinating. We'll be featuring footage from artist Massimo Grimaldi and from documentary film maker Masoud Farand. Amongst speakers to present: Dr. Nafisa Abdullah on the programs of EMERGENCY in Afghanistan, Dr. Ed Newton will speak about the programs in Sierra Leone, and Brooks Almy on her visit to the program in Bangui, Central African Republic. Shauna Ryann Carey will be presenting on non-profit messaging. Attendees will walk to restaurants nearby for lunch.
SATURDAY EVENING DINNER, 7:00 – 9:00 PM at Choza Mama Peruvian Cuisine
Address (Easy Walk from Library): 96 E Colorado Blvd., Pasadena, CA 91105
Click to RSVP! A section to be reserved for our group, and 10% of meal payment to be donated to E-USA
SUNDAY, May 26th 9:30 AM – 12:30 PM
CONFERENCE Final Presentations & Wrap Up
Location: Private Home in South Pasadena
Email: LA@emergencyusa.org for Address and Directions (Easy Walk from the Gold Line South Pasadena Station)
Final presentations for the conference will include the power of individual action, as well as a "how to" in community resource mapping for effective support of the mission of EMERGENCY USA.
SUNDAY, May 26th 12:30 – 3:00 PM
Sunday Afternoon Conference Luncheon
Location: Private Home in South Pasadena
Email: LA@emergencyusa.org to RSVP & Receive Address and Directions. Easy Walk from the Gold Line South Pasadena Station. The luncheon will include music, food, and celebration. The conference volunteers and guests will enjoy the last event of the conference weekend.

---
---
---
San Francisco, CA on May 14th, 2013 at 7:00 PM
EMERGENCY USA and the Institute of Italian Culture invite you to attend a special reception and screening of the Oscar-nominated short documentary, Open Heart.
RSVP: email SF@emergencyusa.org
Event Location: The Institute of Italian Culture
814 Montgomery Street
San Francisco, CA 94133
Minimum suggested donation $10; proceeds to benefit EMERGENCY USA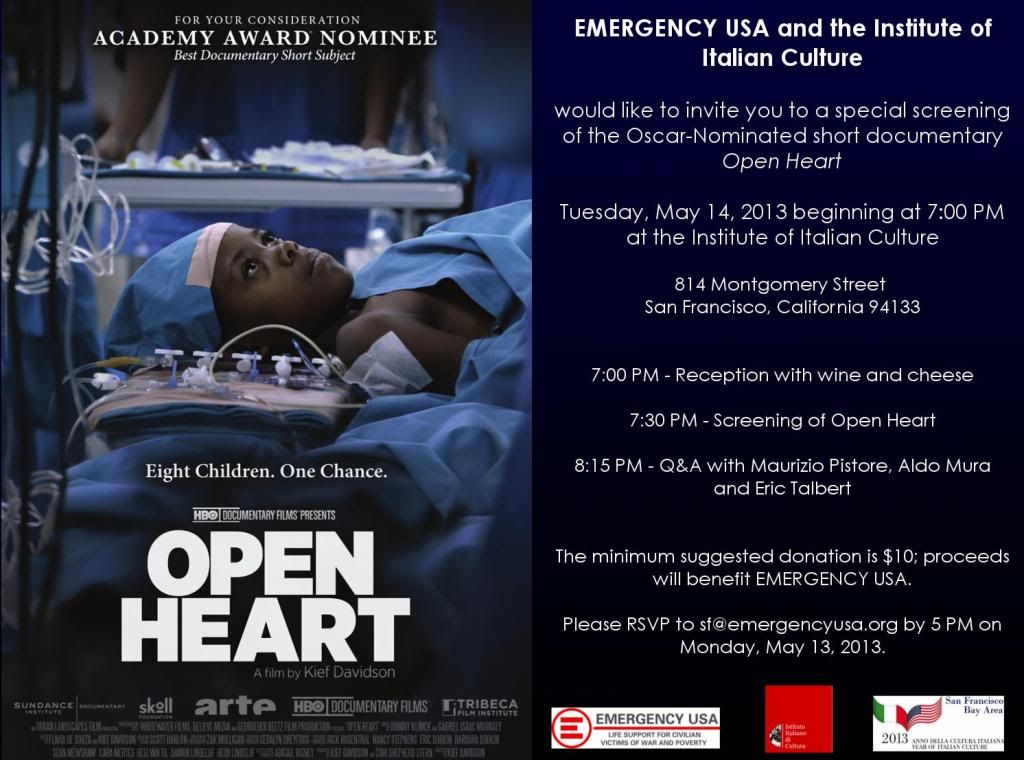 February 25th, 2013 7:00 PM - 9:30 PM - Los Angeles
Special event! $25 to Attend. Click Here to Purchase Tickets

Location: The Pico House, 424 Main Street, Los Angeles, CA 90012
Questions? Email: LA@emergencyusa.org Or Call: 888-501-3872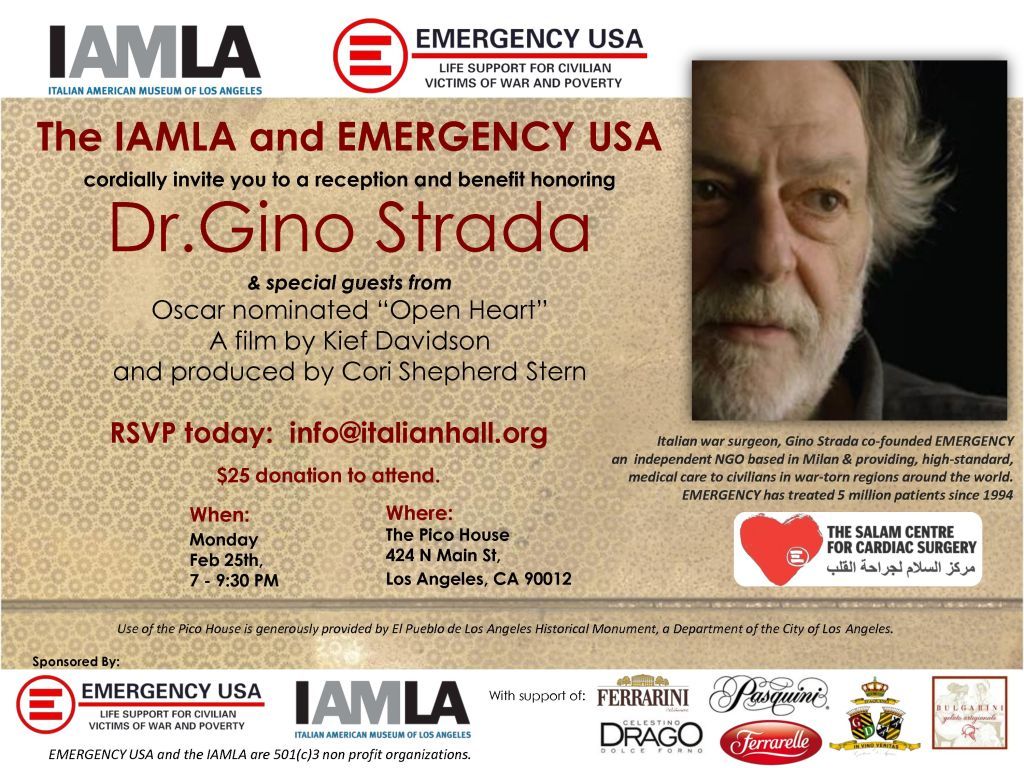 October 14th, 2012 - Volunteer Groups Nationwide
On Sunday, October 14th, in cities across the U.S., our volunteer groups and supporters will be hosting outdoor events sending kites flying high! Join us in this celebration of peace, of hope and connection with children and families around the world.
Beyond the beauty and thd joy of this celebration: we are taking action with significance -- together we are helping to heal the wounds of war.
Our goal is to raise $10,000. With these funds, EMERGENCY USA continues its lifesaving mission of supporting programs that are permanent and sustainable, centers of excellence rather than temporary facilities, that provide high-standard, specialized medical treatment -- free-of-charge -- to civilian victims of war in around the world. We support ongoing programs in places like Afghanistan, Central African Republic, Iraq, Sierra Leone, and Sudan.
Participate by joining or setting up a team on our Firstgiving page. Next, just spread the word, email and invite friends to join the event or to donate and become a champion for this great cause with you. On October 14th, send a kite up with us (hint: picnics are also recommended).
Thank you for taking action in support of our mission!
San Francisco, CA: Interactive Presentation

July 10th, 2012
Visit a free hospital – in Sierra Leone!

On Tuesday July 10th, form 6:30-8:00pm at the Chinatown Branch of the San Francisco Public Library, join EMERGENCY USA - Life Support for Civilian Victims of War and Poverty - to experience the beautiful, high-quality EMERGENCY medical facility in Goderich, Sierra Leone. This presentation will take you through the artistically-designed buildings, and give you a chance to "meet" some of the patients, doctors and other hard-working local staff.

Hear about 6-year-old Ibrahim who developed Elephantitis in his foot, and who is receiving treatment at EMERGENCY, and learn about lye poisoning, so unfortunately common in this country, for which special treatment can only be found at the EMERGENCY facility.

Eric Talbert, Executive Director of EMERGENCY USA, has recently returned from Sierra Leone and will guide you through a patient's experience of attending this free-of-charge, high-quality facility, which you will find is not much different in care and standards than the hospitals we have here in the USA.

Please contact Eric Talbert at 1-888-501-3872 - eric.talber@emergencyusa.org to RSVP or with questions.

This is not a library sponsored event.