There are many things that you can do to get more involved in EMERGENCY USA.
---
Volunteer in your community
EMERGENCY wouldn't exist without the volunteers who dedicate their time and skills to our mission. Their belief in equality, and a passion for human rights and a just world has enabled EMERGENCY to treat over 7 million people worldwide.
Volunteers play a fundamental role in raising awareness about EMERGENCY and in promoting a culture of peace. Moreover, they are fundamental to our annual Under One Blue Sky fundraising event, which takes place in mid-September every year in multiple cities across the country.
Help raise awareness in your community about EMERGENCY USA and its international humanitarian programs.
Your efforts will contribute to EMERGENCY's work of providing free, high-quality medical and surgical care to people affected by war and poverty. By spreading the word about EMERGENCY, you will help save lives, delivering healthcare to those who would otherwise have no access to it.
---
Internship
Interns will work under the supervision of staff or a board member to focus on a specific project to benefit EMERGENCY USA. As an intern, you will be an essential member of our team and have the opportunity to learn how non-profits function. In addition, you will be supporting the EMERGENCY mission, helping to save lives and deliver healthcare to those who would otherwise have no access to it.
Internships may be completed for school credit, as approved by your university or college.
Current Internship Opportunities:
Community Mobilization Internship
Development Internship
Social Media Intern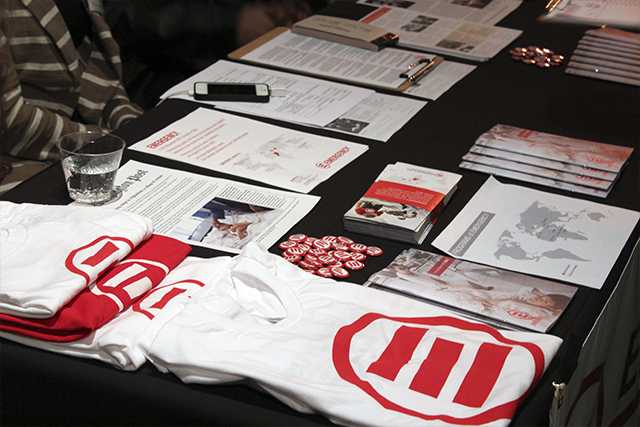 ---
Community Mobilization
Internship
Duties include:
Research local events for volunteers to attend (festivals, concerts, community block parties, etc.)
Organize an Under One Blue Sky team on your campus or in your community
Outreach and communication with volunteers
Attend events in your community as a representative of EMERGENCY USA
Requirements:
Commitment to EMERGENCY USA's values and mission
Enjoy working with others
Ability to carry out online research
Excellent writing skills
Ability to work well independently and achieve goals
Ability to commit 10 hours per week, minimum 6-month commitment
Development Internship
Duties include:
Research strategies for increasing engagement in Under One Blue Sky event
Organize an Under One Blue Sky team on your campus or in your community
Assist with event planning and implementation
Assist with sending thank you letters, and data entry
Filing, photocopying and other light office duties
Note taking at meetings
Requirements:
Commitment to EMERGENCY USA's values and mission
Ability to work well independently and achieve goals
Internship is located in New York City
Proficiency in Microsoft Word and Excel, Google Docs and Sheets, desired
Previous experience with any database software a plus
Ability to commit 10 hours per week, minimum 6-month commitment
Social Media Intern
(currently filled; position anticipated to open June 2016)
Duties include:
Online research and monitoring of relevant news
Update Facebook, Twitter and Blog
Draft content to be used on the website
Create infographics
Edit pictures and videos
Requirements:
Commitment to EMERGENCY USA's values and mission
Excellent writing skills
Knowledge of Facebook and Twitter
Ability to carry out online research
Creative thinking
Flexibility
Ability to commit 10 hours per week, minimum 6-month commitment
Graphic design and HTML knowledge a plus
---
TO APPLY:
To apply for an internship, please fill out this application form and send a letter of interest with your CV to info@emergencyusa.org.
If you are interested in an internship project not listed above, you may send a brief project proposal outlining your interest in EMERGENCY USA, your goals for an internship and your plans for implementing your project.
Work in the field
"In the hospitals, First Aid Posts, and Health Clinics that we have built and managed . . . we have treated people with passion and competence. These results have been achieved thanks to the efforts of thousands of volunteers, hundreds of doctors, nurses and technicians with various technical skills, who have decided to contribute their professionalism to our missions around the world. We still need professionals who want to become travelling companions of EMERGENCY on the path of putting the right to be treated into practice, every single day. It will be an opportunity for an extraordinary human and professional experience for everyone."

Gino Strada, MD
Surgeon and co-founder of EMERGENCY
---
By working abroad with EMERGENCY you will provide specialized, free-of-charge medical and surgical assistance to people affected by war and poverty. Beyond offering their professional expertise in daily work, international healthcare workers provide on-the-job training and supervision to the national staff. This is a vital component of EMERGENCY's capacity-building work.
We are always looking for qualified medical, surgical and healthcare personnel, as well as technicians, administrators and logisticians with expertise in managing health projects.
We are not only looking for experience, balance, humanity and professional competence, but also strong motivation, availability to spend long periods abroad, and the ability to adapt to the working and security protocols established by the organization.
---
People who work with EMERGENCY:
share our mission and work towards achieving its objectives
have relevant professional experience, above all in hospital settings
are available for an overseas mission, usually at least 6 months
work as part of a highly specialized international team, supervising and contributing to the training of local staff colleagues
demonstrate proficiency in English and/or French
EMERGENCY also requires that all personnel:
respect the safety rules established by the organization, designed to protect both the individual and the project as a whole
be autonomous, flexible and capable of managing stressful situation
work in accordance with the organization's standardized clinical and operational protocols
behave in an open and cooperative way, both towards the work of the team and in other areas of community life
have good communication skills and a positive attitude towards training
respect and take an interest in the local culture and traditions
EMERGENCY contracts include:
monthly salary based on a standardized salary scale for the role
incentives for successive or long duration missions
travel expenses, board and lodgings
insurance coverage (liability, health and accident insurance)
a period of paid leave to be taken at the end of the mission
---
It will usually be necessary to ask your employer for a period of unpaid leave in order to undertake a mission. We have the following urgent needs
TO APPLY:
If you are interested in working with EMERGENCY in a medical capacity and you fulfill the requirements set out on the website, please send a comprehensive CV and cover letter explaining why you want to work with us to: cv@emergencyusa.org.

Thank you for your interest in working for EMERGENCY.
Upcoming Events
Interested in meeting other EMERGENCY supporters and volunteers in your community?
Want to learn more about what we do? Or just want to get out in the community and make new friends?
New York City: Thursday, June 23, 2016
An evening of culture: Learning Italian with Cultural Stars
In honor of EMERGENCY's Italian roots-- founded 22 years ago by Italian war surgeon Gino Strada-- we are offering an evening of culture. Join us for a multimedia presentation of the book, Stellare: Learning Italian with Cultural Stars, from which all profits are assigned to EMERGENCY USA. An introduction to Italian for art lovers, Stellare offers language lessons in the form of fun cultural experiences, including a recipe by the great Lidia Bastianich, the classic photography of Gianni Berengo Gardin, films by Nanni Moretti and Fred Kuwornu, a moving song by Gianmaria Testa, and paintings and drawings from the National Gallery of Art in Washington, D.C.
Location: 31 West 34th Street, Suite 8055 Time: 7-9pm EST
New York City: Saturday, July 9, 2016
Open Heart Viewing Party hosted by Heartbeats Unlimited
Join us on Saturday July 9th for an outdoor viewing of the Oscar-nominated documentary Open Heart which tells the story of eight pediatric patients undergoing life-saving surgery at Emergency's Salam Center in Sudan. Pizza, appetizers, and drinks will be served. Please bring a picnic blanket for the lawn and BYOB if desired.
Private Residence, Astoria, NY
Time: 7:30pm- 10:00pm (Film begins at 9:00pm)
Please RSVP info@emergencyusa.org for address and additional information.
---
Nationwide: Sunday, September 25, 2016
Under One Blue Sky Annual Event
SAVE THE DATE! EMERGENCY USA volunteers nationwide celebrate International Day of Peace. This is our annual grass-roots fundraiser to support EMERGENCY's programs worldwide.
Events are planned in Los Angeles, New York City, and beyond. Check back here for further details.
RSVP appreciated, space is limited: info@emergencyusa.org For questions about this event: call (646) 668-5551
---
Spread The Word Through Social Media
We are asking a few of our key partners to rally their friends, family, and networks to support our work. By becoming a fundraiser for EMERGENCY USA, you will help more children in Sub-Saharan Africa, and you'll help your friends feel good about doing good.
Starting a fundraiser is easy to do, and it's fun. We'll even give you all the tools you'll need to make a difference. With your help we can ensure increase access to free, quality healthcare.
Learn more on how to start your own campaign