News
December 11, 2013
Bangui, Central African Republic
In most parts of the city the situation has apparently stabilized. No more gunshots, some shops have re-opened, people have started to go out on the streets again.
As of yesterday, we have started receiving more patients in our pediatric center. They are mainly children in need of urgent healthcare for malaria and infections to the respiratory system, untreated because of the fighting.
Today we received approximately 40 children. We usually treat about 100 children per day. However, people coming from outside the capital are still very frightened to face a potentially dangerous journey to our hospital. They don't feel safe yet.
Massimo, Emergency's logistician in Central African Republic
December 9, 2013
Bangui, Central African Republic
The situation in Bangui, the Central African Republic's capital, is increasingly dramatic.
While the French troops step up their patrolling of main streets, we hear of house searches with men and boys as targets. At the border of the main streets, dead bodies still lay uncovered.
The EMERGENCY surgical team is working at Complexe Pédiatrique, the public hospital in the capital, where thirty children are recovering after having undergone surgery in the past few days.
EMERGENCY's doctors are the only ones operating in the hospital: the local staff cannot reach the hospital due to safety concerns. Everybody is scared of taking any trip in this chaotic context.
The Paedriatric Centre of EMERGENCY also continues to operate. This morning, soon after the end of the curfew, some mothers and members of the local staff based not far from the hospital have managed to reach it on foot.
Some civilians have found asylum in the center to escape the recent fightings.
EMERGENCY has been in Central African Republic since 2009 with a Pediatric Centre offering free health care to children up to 14 years old. Since March 2013, right after the coup d'état, a team from EMERGENCY specialised in medical surgery started working at the Complexe Pédiatrique, the only public pediatric hospital of the country. The EMERGENCY team has reactivated the operating theatres and continue to perform surgical activities.
December 5, 2013
Bangui, Central African Republic
In Bangui, the capital of the Central African Republic, fighting has been going on since this morning.
 The shots can be heard from EMERGENCY's pediatric center, just opposite the parliament building.
 Due to the skirmishes, this morning the war surgery team that works at the Complexe Pédiatrique was unable to reach the hospital that, two days ago, took in the children wounded during an attack on a Muslim community to the north of Bangui.
Additional updates from Bangui, CAR:
MASSACRE OF CHILDREN IN THE CENTRAL AFRICAN REPUBLIC - THE WOUNDED BROUGHT TO THE EMERGENCY HOSPITAL
On Tuesday morning at the Complexe Pédiatrique in Bangui where the EMERGENCY team works, 10 children were brought in.
 They had wounds all over their bodies.

They belong to the Peuls ethnic group - Muslim nomads who live about 90 kilometers from Bangui.

They told us how they'd first been shut in a house, and then taken outside, lined up in a row and struck with machetes. Some of them have wounds from firearms.

We operated on them straight away: ten children, aged between 1 and 10. Carnage. Now they're in our ward, but the only people with them are our personnel; their parents were killed or wounded during the attack.


Update - Wednesday December 4th: the children are responding well to the treatment, but their wounds are extremely serious and we can't yet consider them out of danger.
November 7, 2013
TAMassociati/Emergency Wins 2013 Curry Stone Design Prize
San Francisco, CA: TAMassociati/Emergency has won the 2013 Curry Stone Design Prize. Today, the Curry Stone Foundation named three winners of the 2013 Curry Stone Design Prize: Hunnarshala (Bhuj, India), Proximity Designs (Yangon, Myanmar), and StudioTAMassociati/Emergency (Venice/Milan, Italy). Principals from each organization will participate in a two-day awards ceremony and presentation in partnership with Design Like You Give A Damn Live!, a design conference. The awards ceremony will be held this evening at 7:30PM at the Contemporary Jewish Museum in San Francisco. The conference continues tomorrow with presentations by all three winners beginning at 12:30PM at the Autodesk Gallery, San Francisco.
The annual prize, in its sixth year, is one of the most recognized social impact design awards, celebrating socially engaged practitioners and the influence and reach of design as a force for improving lives and strengthening communities. The Curry Stone Foundation awards $120,000 per year. For the past two years, the amount has been divided equally among the Prize winners.
Each winner will receive a no-strings-attached grant; winners are also the subjects of short documentary films produced by the Curry Stone Foundation. All films will be premiered at the awards ceremony on Nov. 7th and released online the following day. The Curry Stone Design Prize films, past and present, are shared on many digital channels including the Prize's website, IDEO, Public Interest Design, and YouTube.
"The Prize is dedicated to telling the stories of our winners," said Chee Pearlman, Prize Curator. "Through the medium of short documentaries, we're able to spread the word about vibrant, groundbreaking practices that may not otherwise be revealed."
Studio TAMassociati is an Italian consortium of architects recognized for designing health-care facilities in war-torn and critical areas. TAM champions human rights–based design in partnership with Emergency, an International NGO founded in Italy that provides medical treatment to victims of war and poverty. The decade-long collaboration of the two organizations has resulted in a replicable model for free, high-quality healthcare and educational facilities in several countries. Together, TAM and Emergency have opened five hospitals on the African continent, facilities that have treated more than 700,000 patients. In addition, as an extension of their efforts to treat civilians affected by war, they have collaborated on seven clinics in Italy—four of which are mobile units—to provide healthcare to refugees.
Emergency's humanitarian projects strive to provide an oasis of neutrality in conflict zones. They currently run projects in Sudan, Sierra Leone, Central African Republic, Iraq, Afghanistan and Italy. Their doctors deliver quality care regardless of the patient's socioeconomic status. Emergency's goal is to create clinics that meet—if not exceed—Western standards while respecting local traditions. TAM translates the mission of Emergency into architectural reality.
TAM builds beautiful, sustainable, and modern buildings in some of the poorest and most dangerous places on earth. The firm's pragmatic approach to design makes maximum use of local materials and knowledge, resulting in culturally relevant details and the invention of unique solutions to keep energy costs low in extreme climates.
About the Curry Stone Design Prize
The Curry Stone Design Prize was founded in 2008 by Clifford Curry and Delight Stone to recognize designers who address urgent social issues. It was established with the belief that design can be a critical force to create positive social transformations and empower local communities. Its goal is to make the talents of social impact designers available to a broader audience and inspire the next generation of designers to harness their ingenuity and craft for social good. Each winner receives a cash prize and is the subject of a short documentary about their work.
Nominees for the Curry Stone Design Prize are selected by an anonymous, rotating group of social impact leaders representing broad fields of design, as well as humanitarian advocates from related disciplines. Emphasis is placed on emerging projects and ideas that may not have yet been taken to scale.
The 2013 guest jurors include John Cary, executive director of the Autodesk Impact Design Foundation; N'Goné Fall, curator, art critic, educator, and a founding member of the Dakar-based new media collective GawLab; Rahul Mehrotra, chair of Urban Planning and Design, Harvard Graduate School of Design; and Damon Rich, founder of CUP (winner of the 2012 CSDP), and planning director and chief urban designer for the City of Newark, New Jersey.
Media Contacts:
Diana Bianchini
Di Moda Public Relations
310-2880077
diana@dimodapr.com
Eric Talbert
Emergency USA
888-501-3872
eric.talbert@emergencyusa.org
September 6th, 2013
Salam Centre for Cardiac Surgery: EMERGENCY's Center of Excellence in the Sudan is One of Five Projects Awarded the 2013 Aga Khan Award for Architecture
Lisbon, Portugal: Five recipients were announced for the prestigious Aga Khan Award for Architecture, and the Salam Centre for Cardiac Surgery, a project designed by Studio Tamassociati of Venice, Italy was one of those selected. Awarded every three years, the prize of one million U.S. dollars will be apportioned amongst the five recipients according to the Master Jury's discretion.
The award recognizes examples of excellence in a variety of contemporary design disciplines -- all manner of projects that affect today's built environment, particulary those that improve quality of life. The Master Jury observed that the project brought together "stakeholders and local craftsmen into a process of healing that is not merely physical but that is social, economic and political." To read more, click here.
We at EMERGENCY USA express our congratulations to the architect Raul Pantaleo, and his team, with recognition and appreciation of the essential role that the hospital (and compound) design plays in the lifesaving work of EMERGENCY at the Salam Centre. We are proud that such an important award has been given to EMERGENCY and that the cooperation with TAM has been so succesful.
August 29, 2013
EMERGENCY USA Joins EMERGENCY in Defending Human Rights: A Peace Process is Essential for Citizens of Syria

"Here, then, is the problem which we present to you: stark and dreadful and inescapable. Shall we put an end to the human race; or shall mankind renounce war?" Bertrand Russell and Albert Einstein, 1955

Almost 60 years have passed since eleven of the greatest thinkers of the 20th century signed the 1955 Russell-Einstein Manifesto, and world leaders have yet to take heed and renounce war in favor of non-violent resolution of conflict. Recent media coverage and images of the anguish suffered by people in Syria have rightfully awakened public concern. Very unfortunately, military intervention is once again being presented as the only option to end the conflict.

War is not the only option. EMERGENCY's personnel witnessed firsthand -- in Iraq, in Afghanistan, in Libya -- that warring "for peace" actually fuels more violence. At the surgical and medical facilities treating the victims, clinical teams consistently witness the fact that during contemporary military conflicts, 90% of those who are wounded or killed are children, women and unarmed men. The bottom line is that with any acceleration of firepower, countless numbers of civilians suffer injuries and lose their lives.

At this moment, hundreds of thousands of people are fleeing Syria to seek shelter in nearby countries. Some have arrived in Sicily, where doctors of EMERGENCY are providing first aid and care to any in need amongst the refugees landing on the Italian coast.

EMERGENCY USA joins EMERGENCY in requesting immediate prioritization of a diplomatic course of action, and a sound rejection of military intervention in Syria. Starting a peace process is in accordance with international conventions, and is the only logical move to gain ground in protection of the Syrian population, already victimized by the civil war.
Anna Gilmore
President
EMERGENCY USA-Life Support for Civilian Victims of War and Poverty
Kabul, Afghanistan

July 31, 2013

The Wall Street Journal: Afghan Civilians, Security Forces Bear A Rising Burden of War
By MARGHERITA STANCATI and HABIB KHAN TOTAKHIL
Civilians and security forces are bearing a rising brunt of the war in Afghanistan, as the country's troops gradually take over from the U.S.-led international coalition, according to two new reports.
During the first six months of 2013, the number of civilians killed or injured in war-related incidents in Afghanistan rose 23% from the year-earlier period, says a report from the United Nations released on Wednesday. Around 1,320 civilians were killed and more than 2,500 were injured in war-linked incidents, among them a growing number of women and children.
The surge in civilian casualties underscores deteriorating security as Afghan forces take over from the U.S.-led international coalition. Afghan troops led around 90% of operations this year until mid-June, when they formally took the lead for security around the country from foreign forces.
The dire situation was underscored by a report the Pentagon submitted to Congress on Tuesday saying that Afghan forces aren't yet able to protect the entire nation and will require significant U.S. military and financial support for the foreseeable future.
The report says that pervasive government corruption "poses a major threat" that could undermine the costly international campaign to stabilize the nation.
Afghan and American officials are working on a deal to let a small number of U.S. forces stay in Afghanistan after the coalition's mission ends in 2014, to help local security forces—which are bearing the brunt of a record number of insurgent attacks, the report says.
"Although [Afghan security force] capabilities have greatly increased over the past two years, it has yet to demonstrate the ability to operate independently on a nationwide scale," the report concludes.
Meanwhile, despite the Taliban insurgents' insistence that they take all necessary steps to avoid civilian casualties, a commitment they reiterated this spring when they announced the start of their fighting season, the U.N. report found otherwise.
It said that the Taliban and other insurgent groups were responsible for 74% of civilian deaths and injuries in the first half of the year. Improvised explosive devices planted by insurgents remained the single biggest threat for Afghan civilians, the report adds.
The Taliban slammed the report as "totally biased" and "baseless propaganda."
In a statement, the group clarified that they don't consider government workers civilians: "We never consider those people as civilians who are directly involved in our country's occupation and work with sensitive organs of the enemy."
The U.N. report found a 29% increase in killings and injuries of civilians targeted by insurgents because perceived as being pro-government. Last month, 17 people were killed when a car bomb exploded in the Afghan capital targeting a group of supreme court employees waiting to go home. The Taliban claimed responsibility for that attack.
Officials in the southern Afghan province of Kandahar, for instance, blamed the Taliban for the recent death of two teenage girls and their mother, who were walking home from a local bazaar when one of them stepped on a roadside bomb, killing all three.
Afghan security forces and international troops also contributed to civilian casualties: 9% of the total, says the report. The rest were mostly caught in the crossfire.
Civilian casualties reflect a change in fighting patterns: A reduction in operations by foreign troops led to a drop in the such casualties caused by coalition airstrikes, the U.N. study found, while the number of civilians injured or killed in ground clashes between Afghan forces and insurgents has soared.
"Efforts by antigovernment elements to assert territorial influence in contested areas led to increased ground engagement between antigovernment and pro-government forces," leading to more civilian deaths and injuries in the crossfire or from insurgent-placed improvised explosive devices, or IEDs, the report said.
From January through June, IEDs killed 443 civilians and injured 917—a 34% jump over the 2012 period—while crossfire caused the death of 207 people and wounded 764, a 42% increase, say U.N statistics.
The report also warned that unexploded munitions pose an increasing threat to civilians: they caused 43 deaths and 102 injuries in the first half of 2013, a 53% rise from 2012. The U.N. attributed this to an increase in ground fighting and to the failure of the U.S.-led coalition to sufficiently clear their bases and firing ranges of unexploded ordnance as they withdraw.
"We are committed to minimizing the risk that explosive remnants of war present to civilian populations by adhering to high standards for clearing our ranges as we close or transfer them to the ANSF," Erin O. Stattel, a spokeswoman for the international coalition, said in an email, "We have identified potential gaps in procedures, reporting and tracking of firing ranges on current or former ISAF bases and leaders have been directed to increase their oversight in regard to this matter."
In its report, the U.N. urged all parties involved in the armed conflict to try harder to protect civilians from war-related violence.
Adela Raz, a spokeswoman for Afghan President Hamid Karzai said: "The government has taken all necessary steps and has put enough efforts to avoid civilian casualties."
On a recent visit to a Kabul hospital run by Emergency, an Italian nongovernmental organization that focuses on war-related injuries, many of the patients were being treated for gunshot wounds.
Among them was Abid, a 25-year-old farmer from Maidan Wardak, one of Afghanistan's most violent provinces.
He said he was working with his father in their apricot tree plantation when the Taliban and Afghan troops started exchanging fire, and two bullets hit him. Two weeks after he was admitted to the hospital, he sat in a wheelchair unable to move the left side of his body.
"There is fighting almost every day in our village and only poor civilians die," whispered Abid, who like many Afghans goes by only one name. "I hope to get better before Eid"—one of the holiest days in the Muslim calendar — "so I can celebrate with my family and get back to work."
Five-year-old Qudratullah told a similar story: he was playing in his village in Ghazni province when fighting started and a bullet hit his right hand.
"The wound hurts so much but I hope I will get better soon and that I can get back to school," said Qudratullah, sitting on his bed in the children's ward of the hospital.
So far this year, Emergency's hospitals have admitted a record number of patients, said Emanuele Nannini, the organization's program coordinator in Afghanistan.
"It's the worst year since we opened the hospital," said Mr. Nannini, "We opened in '99, and we've never been so busy."
In Afghanistan, Emergency currently runs three hospitals and some 40 clinics, where patients in life-threatening conditions are admitted regardless of their background—be they Afghan policemen or members of the Taliban.
"We don't know who is a civilian and who isn't," said Mr. Nannini.
—Dion Nissenbaum in Washington contributed to this article.
The Wall Street Journal - Kabul Bureau
BANGUI, Central African Republic
June 26, 2013
In April, a group of children ages 5 to 12 were playing football in a Bangui neighborhood when a rocket-propelled grenade exploded in the playing field. Fourteen children were injured and had to be rushed to Bangui's pediatric hospital, where they received treatment from the medical NGO Emergency, a UNICEF partner.

Full article: http://www.unicef.org/infobycountry/car_69737.html
Kabul, Gunfire: 11 injured referred to EMERGENCY Hospital
May 24, 2013
Fighting is still ongoing in Kabul's City center, an area where there are ministries, international organizations and embassies, 1 km away from the EMERGENCY Surgical Center.

Local sources reported that guerrillas entered a UN guest house. So far we have received 11 injured, eight of whom have been hospitalized; six are UN employees.

The situation is critical and our staff is ready to handle an increasing number of injured.

EMERGENCY has been offering high standard and free of charge medical care to victims of war in Kabul since 2001. Since then, EMERGENCY has treated 110,000 patients at the surgical center in Kabul.


BANGUI, Central African Republic
May 9, 2013
"This is just the beginning"

We were asked by the local health authorities a month ago, just after the coup d'état, to get the surgery ward of the Complexe Pédiatrique (the public pediatric hospital) of Bangui up and running again. It had been left damaged by years of neglect and by a war that has hit mainly civilians and the very few services available.


And so here we are. Since the beginning of April we've been preparing the operating theatres of a hospital that's not ours. International and local people, working together.


As soon as we got here, we found mopeds parked in the operating theatre, and chickens wandering around the ward. The "cleaners", brooms in hand, set to work cleaning the walls, floors and every surface of the operating theatre. The logistics managers repaired the systems, studied sterilizer manuals and got fans and monitors working again.
Three days, and then the first patient (with a leg wound caused by fire-arms) entered a room that has finally gone back to being an operating room again, thanks to our efforts.


Over the past month, we've examined and treated mass casualties caused by the explosion of rocket bombs. We've dealt with emergency situations resulting from illnesses that, if they'd been caught in time, could have been treated with just a few pills. We've taken in patients either not treated, or subjected to badly performed operations in the local public hospitals.
Now, in this hospital, you can smell the scent of cleaning detergents. The patients have clean bandages and sheets. Local and international nurses apply the right treatment at the scheduled times. The operating theatre is open 24 hours a day.


This is just the beginning. There's still a lot to do. 


-- Roberto
Nurse, member of the EMERGENCY medical team at Bangui, Central African Republic


April 17, 2013

Combat has resumed in Bangui, the capital of the Central African Republic

There is active conflict near the Parliament, a location in front of the EMERGENCY Pediatric Center, but outlying suburbs are where gunfire and missiles are claiming the highest number of victims amongst the civilian population.

Today, 2 wounded children reached the EMERGENCY Pediatric Center, one of whom is at risk of losing a leg. An additional 11 wounded persons, 3 of whom are in serious condition, were transported to the Complexe Pédiatrique, the public hospital where the EMERGENCY war surgery team has been operating for the last ten days. These include a one-year old girl, wounded by a passing bullet that killed her mother.

EMERGENCY staff have been working non-stop since this morning and are constantly in touch with the Communitaire hospital, where other civilians wounded during the clashes are turning up.
EMERGENCY has been present in the Central African Republic since 2009 with a Pediatric Center that offers free care to an average of 80 children and prenatal monitoring to at least 20 pregnant women each day.
April 5th, 2013

EMERGENY's team of war surgeons landed in Bangui yesterday. Wounded children and adults in need of surgery are still arriving into the city. The hospitals in the capital don't have the surgeons, facilities or drugs required to meet the needs of the wounded. Over the last few days, at the Complexe Pédiatrique - the public pediatric hospital where our surgeons operate - staff from our Centre have been setting up basic facilities, including connecting the operating theatres to running water for sanitation purposes.
March 29th, 2013
Six days after the coup in the Central African Republic, Bangui's public hospitals are recovering their capacity, but are in dire straits: the doctors fled during the assault on the city and they lack medicine and useful instruments.
In town, there are still at least 200 wounded who cannot have the surgeries needed.

 The Director of Bangui's public hospitals has asked for help from EMERGENCY in order to ensure the surgical activity in town and to provide assistance to victims of war.


A war surgery team, comrpised of an orthopedic surgeon, general surgeon, surgical nurse, two anesthesiologists, and two logisticians, is departing for Bangui to reactivate two operating theaters at the Complexe Pédiatrique, Public Children's Hospital. EMERGENCY hospital will also provide medicine, consumable materials, and all instrumentation required for operating theaters.
---
March 26th, 2013
FAP: The new First Aid Post in Gardez

"The smell of fresh paint is still strong, the finishing touches have been made.
The nurses stock the shelves, arranging the medicines and preparing the medication trays. Everything's ready in Gardez, the capital of the Afghan province of Paktia, for the opening of EMERGENCY's new First Aid Post (FAP), the first in this province.

Paktia is one of the least safe areas of the country, where there are no other free healthcare facilities: the wounded have to go to Kabul, three hours away by car.

But now another sign with the red "E" indicates a new chance of treatment. It's a sign that's known and firmly supported by the local people.

There were many journeys, contacts and meetings with the local authorities to define and prepare this FAP in the best possible way. Then came the practical work, and finally (as always) the first patient. Nothing serious this time – just a superficial wound: after some medication he's off home.

Tomorrow sees the official opening of the FAP."

-- Michela, EMERGENCY nurse in Afghanistan, March 25, 2013

On Tuesday, March 26th, EMERGENCY opened the new First Aid Post (FAP) in Gardez, Afghanistan.

Gardez is a city of about 70,000 inhabitants, located at an altitude of 2300 metres amid the mountains and deserts of Hindu Kush. The capital of the province of Paktia (one of the most remote and dangerous of all Afghanistan), it's a city of great strategic and geographical importance: Alexander the Great constructed military fortifications here.
There are no hospitals in the city, and the only possibility of treatment for casualties is with a 3-hour journey to Kabul. Now, thanks to our FAP, we can offer first aid treatment to those in the city who need it. We transport the most serious cases to EMERGENCY's Surgical Center in Kabul, with our own ambulance.

After the opening of the Musa Qala FAP in mid-March, this new First Aid Post is the latest step in our project to make our presence in Afghanistan ever more widespread, so that even people living in the most remote and exposed areas of the country have access to an essential right: that of receiving good treatment, free of charge, whenever they need it.
---
---
BANGUI:
Coup d'état in the Central African Republic: at EMERGENCY's Pediatric Center, the ward is full

On Friday 22nd March, the rebels of the Seleka coalition (who conquered various cities in the northern part of the Central African Republic back in December), resumed their advance towards the capital, Bangui, where they arrived on Sunday 24th. EMERGENCY's Pediatric Center is the only hospital still open in the city; Ombretta, the Center's coordinator, explains how the staff are working in this moment of crisis in the country.

Tuesday March 26th
"The head of the rebels made his first speech on the radio yesterday evening: amongst other things, he said the situation would be back to normal from today, and he announced a curfew from 7pm till 6am.

They were still shooting today. There's nobody around: those who need to go somewhere have to walk because there's no transport. Our staff come to the hospital on foot too; for them, it's a bit easier to get through the checkpoints because they're wearing EMERGENCY T-shirts and carrying a letter testifying that they work at the Pediatric Center.

There's no electricity yet. We've got a supply of fuel for the hospital generator, that will see us through to Thursday if we use it on and off during the day. The water supply is back on during the night – just enough time to fill the tanks and have a proper shower".

Monday March 25th
"We've been hearing shots since yesterday. It's the looters who are being targeted today: as often happens, this is when the ransacking begins – not by the rebels but by common criminals. We see them passing by, loaded down with TV sets, suitcases, fans ... even mattresses. They take advantage of the chaos and the fear of regular people, making off with anything valuable they find in the homes".

"Three casualties have come in – a child age 2, and two adults.
The child was hit by a stray bullet and taken at once to the Center Pédiatrique (the public Pediatric hospital), but there were no doctors there, so she was brought to us. The ward is full and we're still without electricity and water."

"We're all at the hospital. Our local staff are working extremely long shifts to make sure every role is covered. There are looters and rebels all over the place: nobody goes out. That's not entirely true. A mother arrived on foot today from PK12 (about 5 miles from the Pediatric Center), bringing her malaria-suffering child to the "Italian doctors."

"We keep on hearing the shooting; it's mainly against the looters, who are ransacking the homes of those who've escaped. We go on working: our hospital is the only one still open in the city, and today the children started arriving again.

The ward is full.

Another little girl came in this morning, with a neck wound caused by a stray bullet. But the first patient, at 7am, was a newborn baby who came into this world prematurely, weighing 3.5 lb; he had trouble breathing. Now he's here with his mother, and they're both getting on fine.
He was born two hours early – the two hours needed to get here on foot from their village.
What a rotten birthday."

Sunday March 24th
10am "THE SELEKA REBELS ENTERED BANGUI EARLY THIS MORNING.
Fighting has been taking place in front of the parliament building and around the presidential palace since 7am. From EMERGENCY's Pediatric Center, located just opposite the Parliament, you can hear the shooting and the firing of rocket bombs.

The EMERGENCY doctors and nurses stay in the hospital, where there are still 5 children suffering from malaria. As of last night, we're without not only electricity but also water.

EMERGENCY asks the warring parties to negotiate an immediate ceasefire, respecting the work of the hospitals and the protection of civilians."

Saturday March 23rd
7pm THE REBELS ARE 12KM FROM BANGUI
"The Seleka rebels are at the gates of Bangui. At PK12 (roughly 7 miles from the city), they're fighting in this very moment against the regular army. PK12 is 5 miles from our Pediatric Center. This afternoon we heard the shots from the hospital. We're carrying on working here: there are 5 children with malaria on the ward. In the city, there's still no electricity."

4pm "The locals are saying that the rebels are now 25km from Bangui. There's no electricity today, and we can't hear the French radio station. The city is deserted. As already happened during the crisis in December, people are afraid to go out and won't leave their homes even to come to the hospital: we usually see around 80 children a day, but today there've only been 10. The soldiers are lined up outside the Parliament."

Friday March 22nd
"The rebels of the Seleka coalition have resumed their march on Bangui. At the moment they're fighting in Damarà, 46 miles from here, and the locals tell us that the government troops are already arrayed in PK12, 7 miles from the city. Since this morning, the situation in the city has been extremely tense: people are escaping to the river Obangui, frightened about the arrival of the Seleka. We go on working to treat the children, as always, but we're also getting ready to face a possible EMERGENCY, stocking up on food and coal."
January 16, 2013
PRESS RELEASE: CAR BOMB ATTACK IN KABUL
TEN WOUNDED ARE TRANSFERRED TO THE HOSPITAL OF EMERGENCY

This morning a car bomb exploded in Kabul, near the National Directorate of Security compound. One attacker died during the explosion, four others were killed during shootings with the police. Three civilians died in the attack, twenty-seven were injured. Ten were transferred to EMERGENCY's Surgical Center for war victims. None of these patients arriving for treatment were in life-threatening condition.

EMERGENCY's Surgical Center for war victims is the only facility in Kabul that provides free, high quality medical and surgical treatment to the victims of war. Since the beginning of its activities in April 2001, EMERGENCY's hospital in Kabul has treated over 100,000 patients.


January 11, 2013
Diary from Bangui, Central African Republic
Peace Deal Signed with Rebels

Sent from EMERGENCY Pediatric Center in Bangui:
"signed peace agreements!"
The news has spread quickly in Bangui and the city is resuming life -- though there is still a curfew.
The streets are filled with people, singing, dancing, and sounding their horns raucously. It seems like New Year
"It's over," our guard (unarmed, of course) tells us with a huge smile.
We hope so, for everyone!


January 10, 2013
The Medicine of EMERGENCY goes to the Academy Awards

The film Open Heart, http://openheartfilm.com/ directed by Kief Davidson, was nominated today for the 85th Academy Awards, Best Documentary Short Subject. The Oscars will be held at the Kodak theater in Los Angeles on February 24th.

Open Heart is the story of eight Rwandan children who leave their families behind to embark on a life or death journey to receive high-risk open-heart surgery in Africa's only free-of-charge, state of the art cardiac surgery hospital, the Salam Centre run by the Italian NGO EMERGENCY. Their heart valves are damaged by rheumatic heart disease, which develops from untreated strep throat. Some of the children have only months to live.

Open-heart surgery – while invasive, dangerous, and prohibitively expensive – is the only option to repair or replace the damaged heart valves and save the children's lives. There are an estimated 18 million people worldwide affected by rheumatic heart disease and in need of urgent surgery, the majority of them in Africa. Despite the fact that the disease kills 300,000 people per year, the Salam Centre, opened by EMERGENCY in 2007, is the only facility in Africa equipped to provide such specialized cardiac surgery free of charge.

To quote Dr. Gino Strada, co-founder of EMERGENCY and surgeon at the Salam Centre: "One thing is to have the same rights on paper. A completely different story when you look into the content of what you call rights. There is something wrong if my right to health care as a European includes a CT scan and sophisticated diagnosis, while the right to be cured for an African stops at the level of a couple of vaccinations and a few antibiotics."

Open Heart has already been presented at Docuweeks New York, at Hamptons International Film Festival and at the International Documentary Film Festival Amsterdam.


January 10, 2013 Diary from Bangui

Over the past few days the situation in Bangui has not improved even though everyone is hoping for negotiations. Last night at 1 o'clock we heard continuous shots: the press is not reporting this and our staff says those shots were related to the curfew by the patrol. Today a demonstration by the President's supporters is scheduled across the city. On a positive note, the gas supply is back. However we continue maintaining a supply of charcoal to be safe should the situation change again.


January 3, 2013
CENTRAL AFRICAN REPUBLIC REBELS HALT ADVANCE ON BANGUI - BBC News

"Rebel forces in the Central African Republic say they have halted their offensive on the capital, Bangui, and will take part in peace talks." Read the full article.


January 3, 2013 Diary from Bangui

A curfew remains in effect in Bangui from 7pm to 5am, but the situation seems more stable pending the negotiations scheduled for January 10th 2013. Activities at the EMERGENCY Pediatric Center, which has been operational since 2009, are returning to normal after several days of low turnout due to patients' fears of leaving their homes. This morning, upon opening the doors, there were 75 children waiting to be seen. EMERGENCY's hospital has run out of fuel, but it seems that gas supplies will resume next week, meanwhile, the Center continues to cook with charcoal and stocks up on food and coal to ensure there are meals for the patients.

December 31, 2012 - Evening

"The city is still quiet, like a desert. Shops are only open in the morning and we are storing more and more food because we cannot afford to run out of it. Every day we top up the fuel as we are told that at north, where the rebels have arrived, gas is no longer available. We had to provide our staff with signed letters indicating they are medical staff and work in our hospital in order to facilitate their access to the city. Check points are everywhere: one of our colleagues has been stopped 15 times before he could reach the hospital."
Ombretta, medical coordinator in Bangui
December 31, 2012 - Morning

"Last night we heard some shots. This morning we were told those were random shots during patrolling. The city is surveilled by government troops and we don't have any update on the rebel approaching Bangui. A curfew from 7pm to 5am is compulsory and this has an impact on the arrival time of our patients. Only one kid arrived last night with a serious anemia and bad health conditions caused by untreated malaria. These days everyone is afraid of leaving their homes. Unfortunately, this kid didn't make it, despite all our efforts."
Ombretta, medical coordinator in Bangui
December 30, 2012

"Last night we heard prayers, singing and drums until 4am this morning. The rebels have taken Sibut. Local sources say they are approaching Damara', where South African military troops and the Chadian contingent are located. Damara' is 70km away from Bangui. The city is deserted. Patrolling is more intense and as of today, a curfew is in effect from 7pm to 5am. Several international staff have left the hospital following latest news. However, we had a meeting to discuss our position and decided to stay despite the difficult situation. The local staff ensured us that EMERGENCY is the only NGO that provides healthcare free of charge and the population will not forget it."
Ombretta, medical coordinator in Bangui
December 28, 2012
PRESS RELEASE: CENTRAL AFRICAN REPUBLIC: THE REBELS ARE MOVING TOWARDS THE CAPITAL BANGUI.
EMERGENCY MEDICAL STAFF CONTINUE MEDICAL ACTIVITIES

The group of rebels - called Saleka - is two hours away from the capital Bangui. EMERGENCY medical staff continue working at the Pediatric Center in Bangui, opened in 2009 in a location in front of the Parliament building.
Ombretta Pasotti, medical coordinator at the hospital, a pediatrician, a logistician and approximately 70 local staff tell us: "In the past few days we have seen protests, demonstrations and intense patrolling in the capital. The city is deserted -- many foreigners have left. Food prices are increasing exponentially and gas supplies are decreasing too because the transport of fuel from Cameroon, the main gas supplier, is suspended for security reasons. Our hospital is still crowded with patients despite reduced arrivals from outside the city. We have noticed that children arrive in very poor conditions because families wait until the very last minute before facing the journey to get to the hospital."
Since mid December the Saleka group has taken several cities in the north and is headed towards the capital. Seleka - an alliance of three separate groups - accuses the government of failing to honor a 2007 peace agreement under which fighters who laid down their arms were to be paid.
Press release issued on 18th June 2012

EMERGENCY SENDS MOBILE OUTPATIENT CLINIC TO CARPI

The Italian NGO EMERGENCY sends a medical team to provide essential healthcare services to people in Carpi (Modena), an area of northern Italy severely affected by recent earthquake.



Monday, June 18th, 2012: In response to requests made by several communities with serious damage to local infrastructure caused by recent earthquakes, EMERGENCY sent its specialized mobile clinic or "polibus" and team to address two important unmet needs: few remaining intact and adequately equipped medical facilities, and provision of healthcare to immigrants – a segment of the affected region's population that is particularly vulnerable.

The earthquake damaged numerous healthcare facilities in the area rendering them unfit for use. As a result, many people unable to travel to reach unaffected provinces are not getting medical attention. EMERGENCY's mobile clinic is ideally suited to respond since it is self-contained and fully equipped to provide quality assistance. The mobile clinic's design offers comfortable conditions, providing welcome relief for patients dealing with the disaster.

The area is home to many immigrants so there is a need for linguistic and cultural mediation to support adequate assistance to this population that is marginalized from many basic services. EMERGENCY includes trained cultural mediators in their mobile clinic teams so they are ideally prepared to facilitate communication and culturally appropriate provision of quality care for foreign patients.

Thus far, EMERGENCY's mobile clinic has assisted patients at the Civil Protection camp run by the Basilicata region, as well as to people living in self-managed camps. The mobile clinic team has also offered logistical support to local doctors whose clinics were damaged by the earthquake.
EMERGENCY
Milan, 18th June, 2012
The Kabul Hospital That Treats All Sides
"A patient is a patient. This is our rule."
The following is EMERGENCY USA's Letter to the Editor in reference to the May 20th, 2012 New York Times Magazine cover article by Luke Mogelson.
Thank you for Mogelson's article focusing on EMERGENCY's work in Afghanistan. The complexities faced by agencies working to sustain and repair the war-wounded lives and communities are starkly revealed in each personal story … stories too often left untold. Writing about war is hard, and realizing the consequences that Afghans live every day is heartbreaking. In contemporary warfare, 90% of victims are noncombatants; one in three is a child.
Against the backdrop of war's destruction, EMERGENCY's medical teams in the field and community of volunteers are together activists promoting healthcare and respect for the dignity of human life. Since 2008, EMERGENCY USA has responded in a concerted effort, garnering a national team of volunteers to further the work worldwide. We proudly support EMERGENCY's life-saving programs--in effect, promoting a culture of peace and hope through access to exemplary free-of-charge healthcare.

Graziella B. Costanzo
Vice-President
EMERGENCY USA Life Support for Civilian Victims of War and Poverty
www.emergencyusa.org
April 10th, 2012

Hello from Sierra Leone!

I'm honored to be here in Sierra Leone representing you and our many fellow EMERGENCY USA supporters!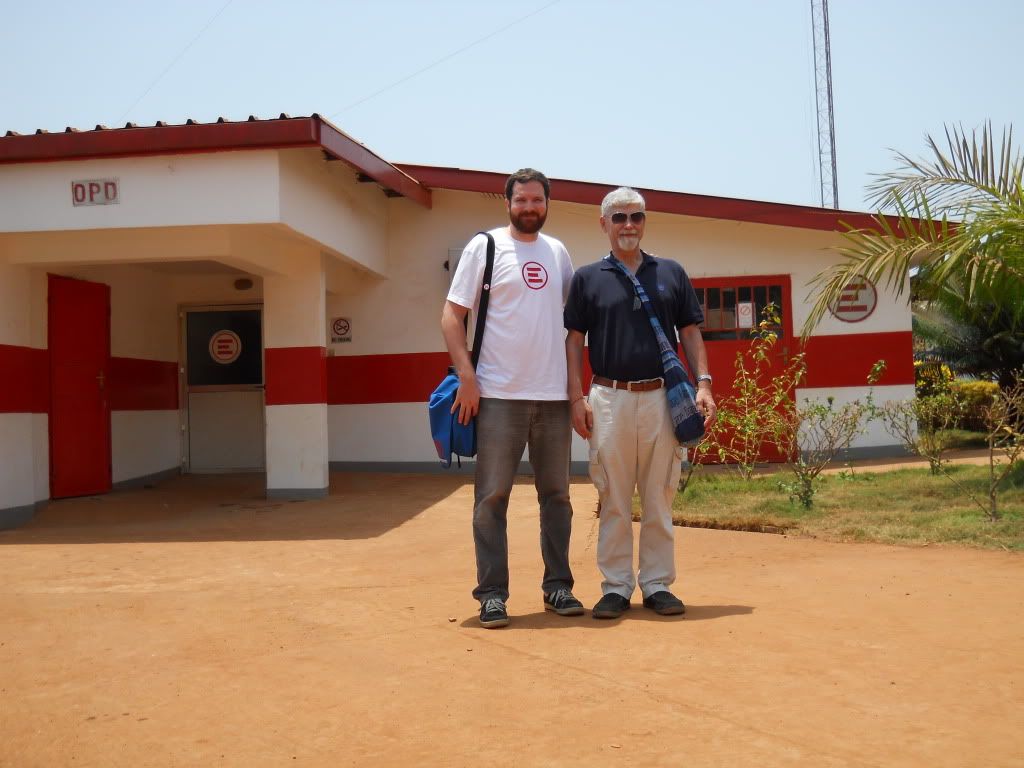 Eric Talbert and Dr. Ed Newton in front of the OPD (ER) at the Surgical Center

I am traveling in the company of EMERGENCY USA Medical Advisory Council member, Dr. Ed Newton, a physician who has joined me to conduct a medical evaluation. Ed recently transitioned from his role as Chair of the Department of Emergency Medicine at the University of Southern California - Los Angeles County Hospital, to focus on teaching, research, clinical practice, and international humanitarian work.

We arrived in a bustling Freetown whose roads were filled with people celebrating on a cool and cloudy Sunday night. We left California on a hot Saturday morning and three planes, two buses and one boat ride ago -- a trip that altogether took twenty-five hours.

The warm welcome at the international house was truly a joyful destination finally reached. The "Happy Easter" greetings were quickly followed by the news that five people had just arrived at EMERGENCY's hospital, badly injured in an automobile accident. Ed and I jumped into the car with the medical coordinator, Luca, to drive the short distance from the house to the hospital where we dropped off Marco, a young surgeon from Italy, so that he could begin working with the local staff and with Paolo, another Italian surgeon, to care for the injured. No surprise that despite Sunday being a holiday the EMERGENCY hospital was open and busy providing high-standard medical and surgical care free of charge.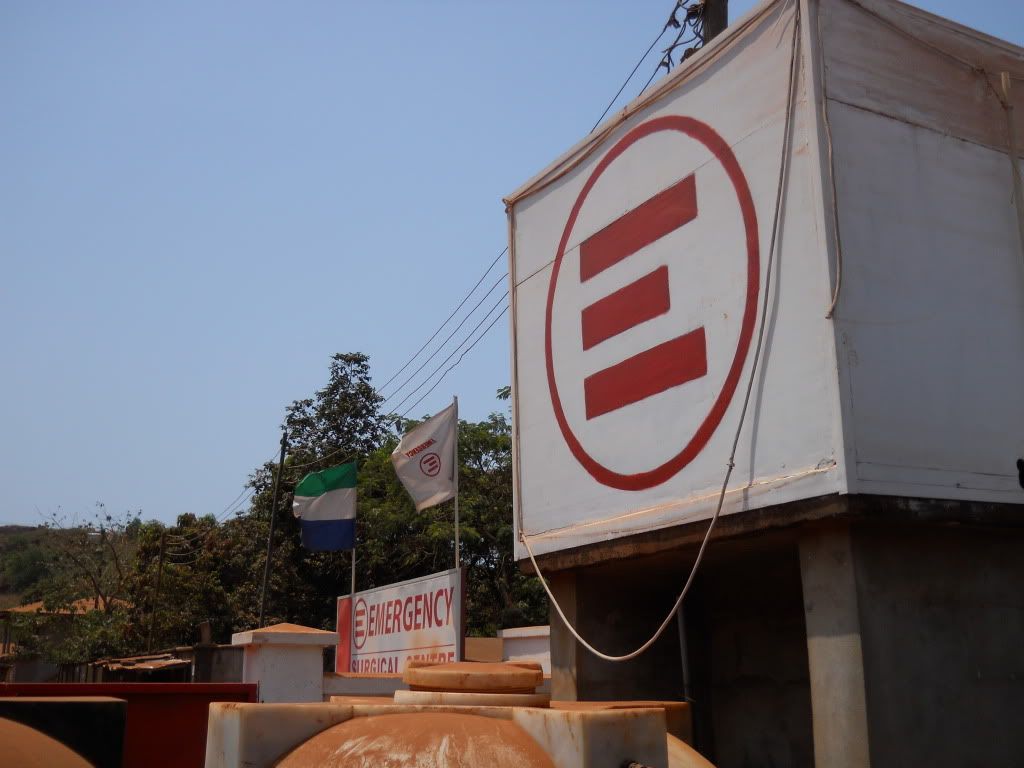 Entrance to EMERGENCY's Surgical Center in Goderich, Sierra Leone

On Monday, Ed and I spent several hours with Luca, who is the medical coordinator who helped to open this hospital over ten years ago. We met many people hard at work, in addition to patients being treated at the 100-bed hospital. Among these patients was Kelvin, a tall and thin teenager who overcame his pain to smile and wave to greet us. He had received cardiac surgery at the Salam Center in Sudan two years ago, as well as another more-recent operation here at the surgical center last year. He is now back for treatment for malaria. Without EMERGENCY's life-saving services Kelvin would very likely never have received medical attention for these treatable conditions.

After seeing the entire hospital, we were then shown the new section that is currently under construction and is expected to open this July. This is a large and beautiful building that will house three new operating rooms, a guesthouse for fourteen, as well as other facilities.

The Central Sterile Supplies Department (CSSD) equipment that EMERGENCY USA is in the process of purchasing will be housed in the first and largest of the new operating rooms. The suitcases of medical supplies I brought from MedShare have been given to the supplies people and will start being used for patient care tomorrow.

Please enjoy the pictures that I include in this message, and I look forward presenting more information upon my return.
If you or anyone you know is interested in hosting a presentation in your home or community please email me at eric.talbert@emergencyusa.org. I'll provide here below my current travel schedule and welcome you to inquire for updates.

Washington DC - April 28th to May 2nd
New York City - May 3rd to May 8th
Colorado - May 18th to May 22nd
Chicago - May 25th to May 30th
Boston - June 1st to June 3rd
LA - June TBD
San Francisco - June 22nd to June 30th


Thank you for your ongoing support on EMERGENCY USA!

In Solidarity,
Eric

Eric Talbert Executive Director
info@emergencyusa.org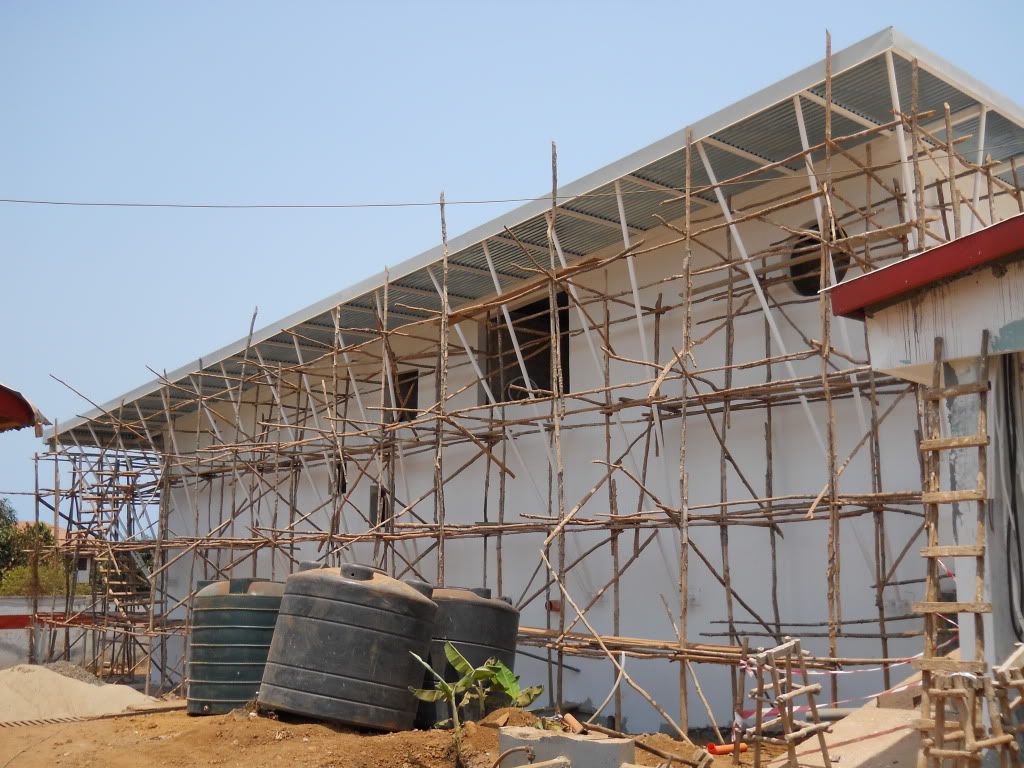 Construction of new building at the Surgical Center
---
-----------------------------------------------------------------------------------------------------
PRESS RELEASE

March 26, 2012: BOMBINGS IN HELMAND, AFGHANISTAN:
EMERGENCY URGES THAT THE WOUNDED HAVE ACCESS TO HEALTHCARE

NATO forces have been bombing the village of Mirbandao, in Helmand Province, Southern Afghanistan, for days now.

EMERGENCY runs a hospital for war victims in Lashkar-gah and three First Aid Posts within the province. Neither the hospital nor the First Aid Post in Grishk – the nearest one to the area which is under air raid – has received wounded patients so far.

Local inhabitants have informed EMERGENCY staff that the area is encircled by military roadblocks preventing injured people from leaving the battle zone.

This is not only an open violation of the International Humanitarian Law, but also an offense to our civil conscience.

Therefore EMERGENCY urges the immediate opening of a humanitarian corridor, in order to guarantee the safe evacuation of civilians and urgently needed referral of the wounded for medical treatment.

-----------------------------------------------------------------------------------------------------
FRANCESCO AZZARÀ IS FREE
Today, at 4 PM, we received confirmation that Francesco Azzarà was released.
Francesco was kidnapped on the 14th of August in Nyala, South Darfur, where he was working as a logistician at EMERGENCY's Paediatric center.This is a joyful day for EMERGENCY. We want to share our happiness with Francesco, with his family who has shown a strong will and great trust in our work and the Sudanese authorities' work during the last 124 days, as well as with everyone - citizens and institutions - who expressed their solidarity to Francesco, his family and their support of EMERGENCY's work.
EMERGENCY wants to thank the Sudanese authorities who worked for Francesco's release. In this moment of relief, EMERGENCY thinks of all the people - from Italy or other countries - still held hostage.
EMERGENCY
Milan, 16th December, 2011
-----------------------------------------------------------------------------------------------------
EMERGENCY USA's Shipment of Medical Supplies Arrives in Kabul
A successful finale for the Bridging the Miles to Afghanistan Campaign
August 23rd, 2011: Cause for celebration! The EMERGENCY USA shipment of medical supplies has arrived at the EMERGENCY Surgical Center in Kabul, Afghanistan. The container has completely cleared customs in Afghanistan, and the supplies are currently being put to use in the Kabul Surgical Center and distributed to the other EMERGENCY Hospitals in Anabah and Lashkar-gah, as well as its First Aid Posts, and the Anabah Maternity Hospital.

The vision of the Bridging the Miles to Afghanistan campaign will be brought to reality as these supplies and equipment in the hands of the clinical personnel, doctors, nurses of the EMERGENCY programs, reach the patients who are treated there.
Our heartfelt appreciation to the volunteers, supporters, donors and to our partners at MedShare International.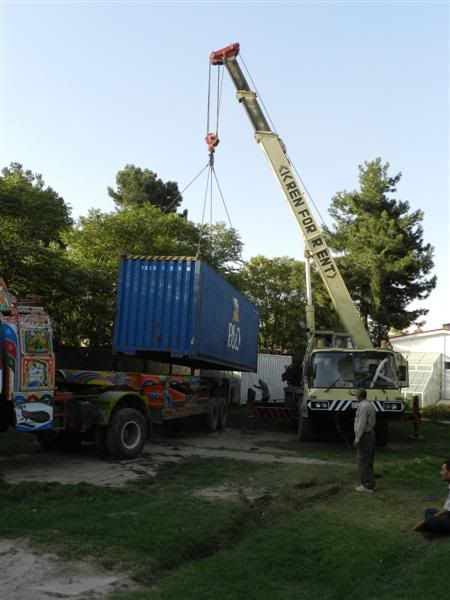 The shipping container arrives at the EMERGENCY Surgical Center in Kabul, Afghanistan.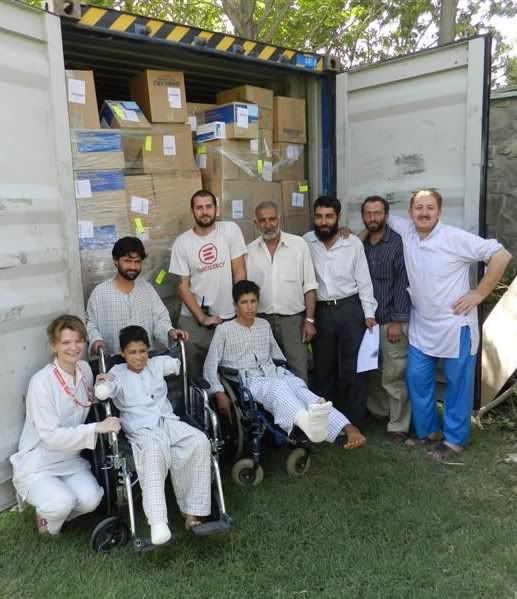 The Patients and Staff of the EMERGENCY Hospital in Kabul pause for a photograph as the container is opened.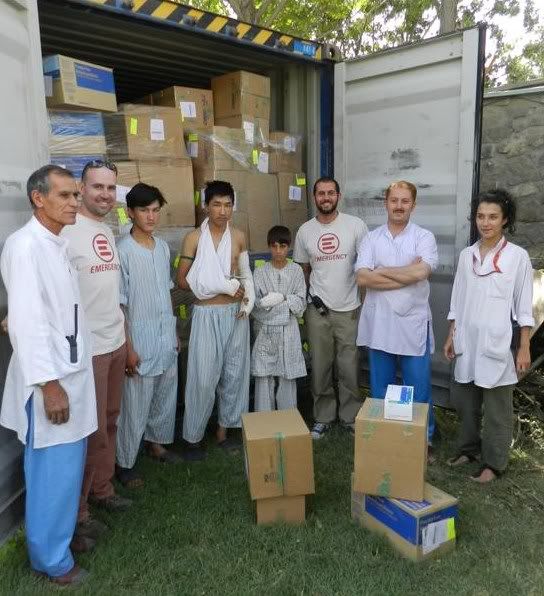 One more photo as the shipping container is unloaded and the supplies and equipment prepared for use: providing high-standard, medical, surgical, and rehabilitative care for civilian victims of war.
EMERGENCY aid worker kidnapped in Sudan
Thursday, August 18th: Four days after the kidnapping of EMERGENCY employee Francesco Azzarà in Nyala, capital of South Darfur, nobody has yet claimed responsibility for the act nor asked for a ransom. Inaccurate reports to the contrary were released by some Italian newspapers on Wednesday.

Francesco, a logistician of the EMERGENCY Paediatric centre in Nyala, was taken on the 14th of August in the afternoon, while he was in a car heading for the city's airport.

EMERGENCY continues to follow developments in the situation and is working for the release of Francesco, in close cooperation with Sudanese authorities and the Italian Ministry of Foreign Affairs.

EMERGENCY is asking for immediate release of Francesco Azzarà and remains open to collaborating with all who are able to contribute toward a positive solution of this matter as soon as possible.

Sunday August 14th, 2011: at 5:00 PM local time, an EMERGENCY aid worker was kidnapped by unknown people in Nyala, the capital of South Darfur, while he was in a car traveling to the city's airport.

Francesco Azzarà, age 34, was working on his second mission as a logistician at the EMERGENCY Pediatric Center in Nyala, which originally opened in July 2010.

EMERGENCY immediately activated by informing its contacts in Darfur and Khartoum in addition to bringing the Italian Ministry of Foreign Affairs up to date. An EMERGENCY team is following the developme