Events
San Francisco, CA on May 14th, 2013 at 7:00 PM
EMERGENCY USA and the Institute of Italian Culture invite you to attend a special reception and screening of the Oscar-nominated short documentary, Open Heart.
RSVP: email SF@emergencyusa.org
Event Location: The Institute of Italian Culture
814 Montgomery Street
San Francisco, CA 94133
Minimum suggested donation $10; proceeds to benefit EMERGENCY USA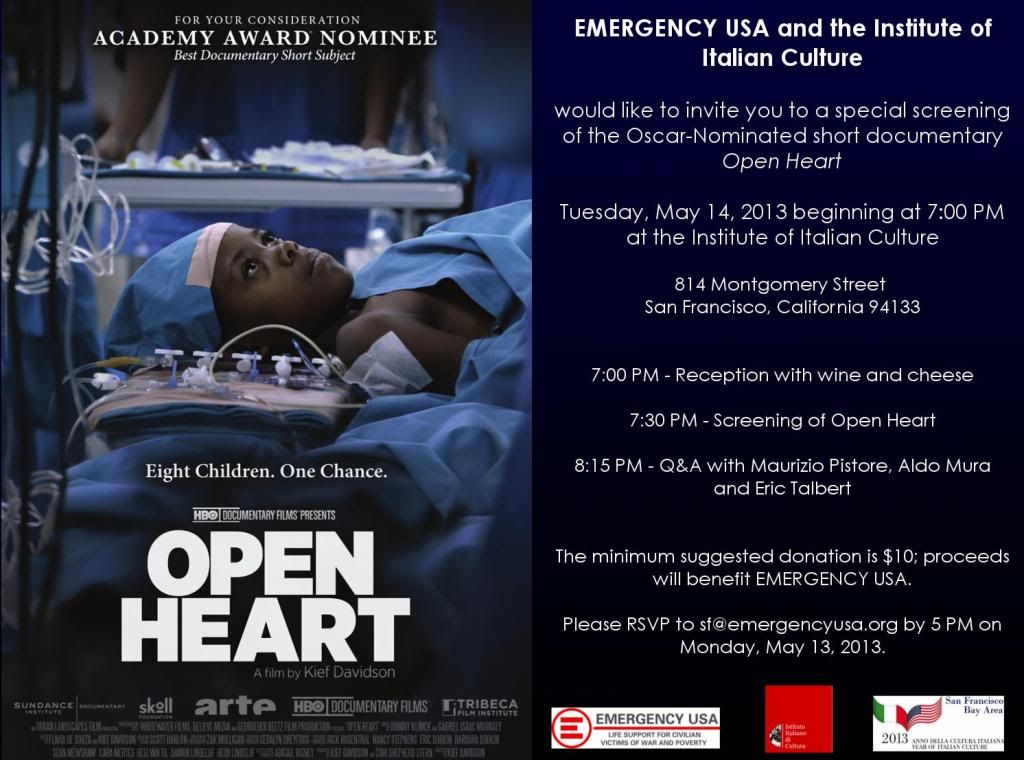 February 25th, 2013 7:00 PM - 9:30 PM - Los Angeles
Special event! $25 to Attend. Click Here to Purchase Tickets

Location: The Pico House, 424 Main Street, Los Angeles, CA 90012
Questions? Email: LA@emergencyusa.org Or Call: 888-501-3872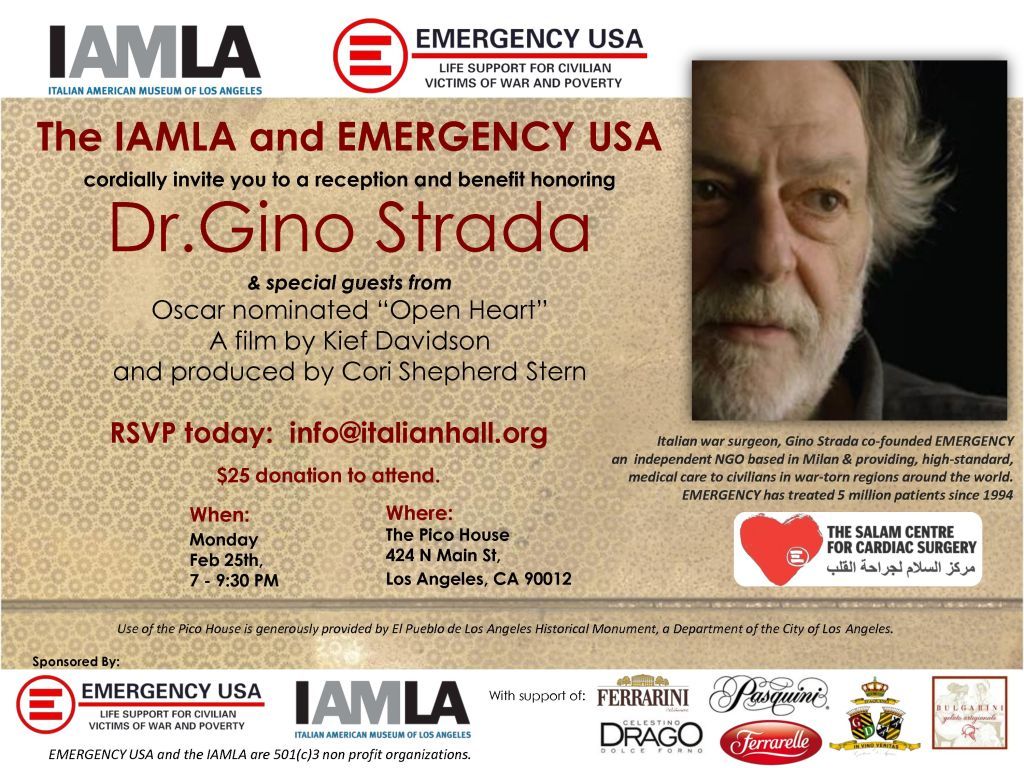 October 14th, 2012 - Volunteer Groups Nationwide
On Sunday, October 14th, in cities across the U.S., our volunteer groups and supporters will be hosting outdoor events sending kites flying high! Join us in this celebration of peace, of hope and connection with children and families around the world.
Beyond the beauty and thd joy of this celebration: we are taking action with significance -- together we are helping to heal the wounds of war.
Our goal is to raise $10,000. With these funds, EMERGENCY USA continues its lifesaving mission of supporting programs that are permanent and sustainable, centers of excellence rather than temporary facilities, that provide high-standard, specialized medical treatment -- free-of-charge -- to civilian victims of war in around the world. We support ongoing programs in places like Afghanistan, Central African Republic, Iraq, Sierra Leone, and Sudan.
Participate by joining or setting up a team on our Firstgiving page. Next, just spread the word, email and invite friends to join the event or to donate and become a champion for this great cause with you. On October 14th, send a kite up with us (hint: picnics are also recommended).
Thank you for taking action in support of our mission!
San Francisco, CA: Interactive Presentation

July 10th, 2012
Visit a free hospital – in Sierra Leone!

On Tuesday July 10th, form 6:30-8:00pm at the Chinatown Branch of the San Francisco Public Library, join EMERGENCY USA - Life Support for Civilian Victims of War and Poverty - to experience the beautiful, high-quality EMERGENCY medical facility in Goderich, Sierra Leone. This presentation will take you through the artistically-designed buildings, and give you a chance to "meet" some of the patients, doctors and other hard-working local staff.

Hear about 6-year-old Ibrahim who developed Elephantitis in his foot, and who is receiving treatment at EMERGENCY, and learn about lye poisoning, so unfortunately common in this country, for which special treatment can only be found at the EMERGENCY facility.

Eric Talbert, Executive Director of EMERGENCY USA, has recently returned from Sierra Leone and will guide you through a patient's experience of attending this free-of-charge, high-quality facility, which you will find is not much different in care and standards than the hospitals we have here in the USA.

Please contact Eric Talbert at 1-888-501-3872 - eric.talber@emergencyusa.org to RSVP or with questions.

This is not a library sponsored event.