Rescuing migrants in the Mediterranean Sea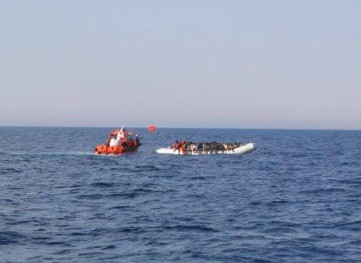 The Mediterranean Sea has become one of the most dangerous borders in the world; in the first few months of 2016 alone, more than 2,000 people drowned whilst trying to cross it. In the just first week of May, 1,138 people died or went missing while trying to reach Europe.
In June 2016, we started working with the Migration Offshore Aid Station (MOAS) aboard their vessel the 'Topaz Responder' as part of a new search and rescue mission in the Mediterranean Sea. The aim is to rescue migrants at sea and provide them with immediate medical treatment on board.
"At first I only saw two hands emerging from the dinghy. As soon as we got closer and started signalling that we were there to help, I saw dozens of hands raising in the air." said Luca, EMERGENCY's doctor on MOAS's Responder Vessel.
The 52 meter long 'Responder' is equipped with two high-speed rescue boats, a crew of 20 highly trained staff (search and rescue personnel, doctors and nurses), and a fully equipped clinic. EMERGENCY's 6 staff members (including doctors, nurses, a cultural mediator, and a logistician) are providing post-rescue medical assistance and cultural mediation for migrants brought aboard the 'Responder'.
"They were trying to get our attention, to reach for help." Luca continues, "It was a very emotional moment. In front of me, in the middle of the sea between Italy and Libya, were hundreds of youngsters. We rescued them one by one and pulled them aboard the Responder".
Since 2014, our teams in Pozzallo, Augusta, and Siracusa, have provided medical care to more than 20,000 migrants who have arrived in Sicily. But now it's time to do even more: that's why we're going out beyond the coast, directly into the sea, to assist all those in need.
---
Find out more about our work helping migrants and refugees who come ashore in Southern Italy here, or you can read about our Primary Health Clinics across Northern Iraq which providing basic healthcare to Syrian refugees and displaced Iraqis.