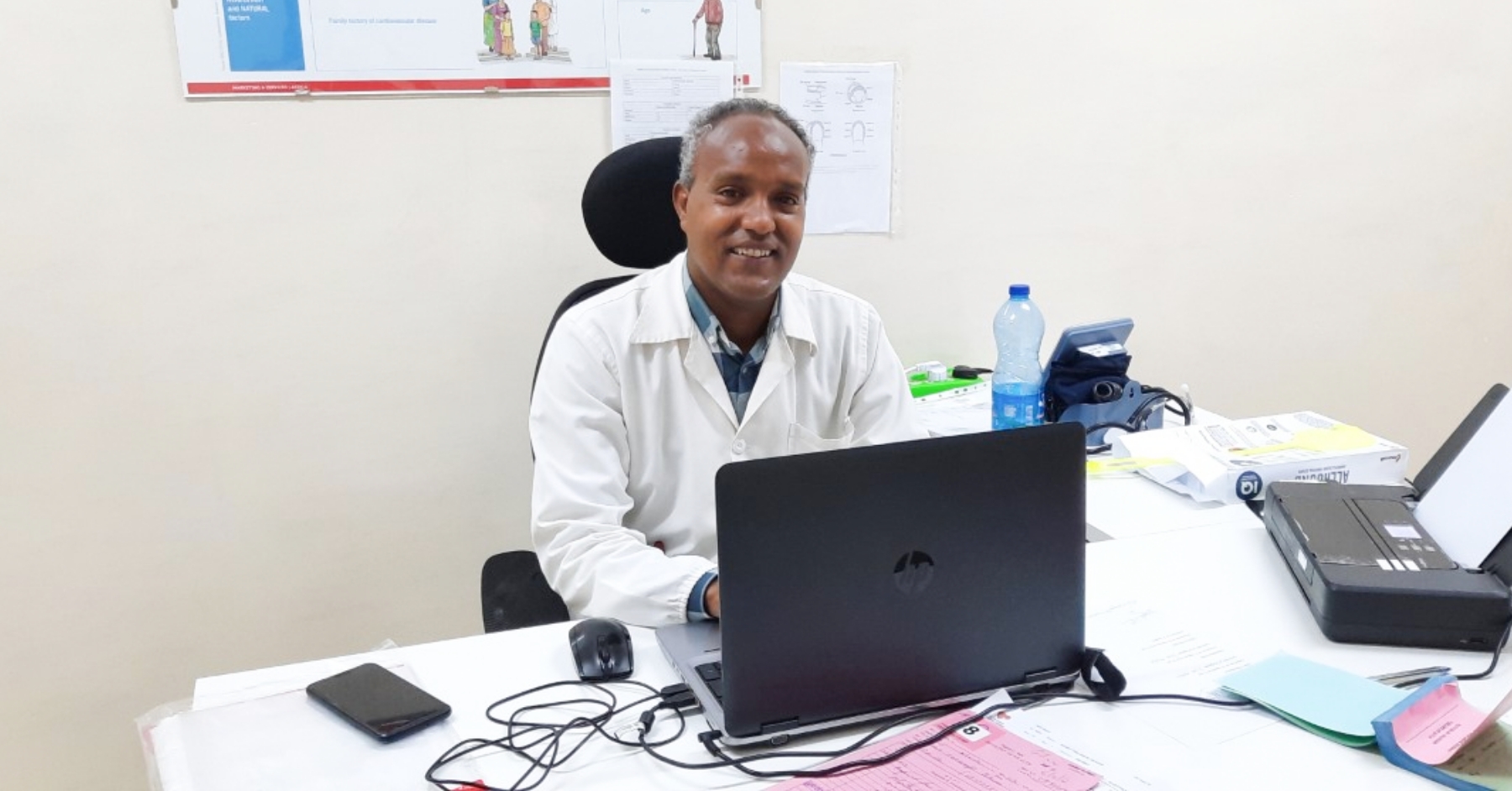 "It's My Duty As a Doctor to Ensure It."
"Ever since I was a little boy, I've wondered how I could help sick people. That's why I studied medicine."
Dr Enok comes to work at the cardiology clinic at Orotta Hospital on his bike every day, to make his contribution to healthcare in his country.
As one of the local doctors working with EMERGENCY here in Asmara, the capital of Eritrea, he is responsible for appointments, check-ups, training sessions and prescriptions for anticoagulant treatment.
The local staff at this state-run clinic, who we have been training since 2019, provide cardiological treatment to the public, free of charge.
"Medical aid is a fundamental right and people must have access to treatment. It's my duty as a doctor to ensure it."
EMERGENCY's cardiology screening missions in Eritrea
Enok has worked with us since 2019, when we began contributing to work at the hospital's newly opened cardiology clinics. We set up a ward for anticoagulant treatment, which is now run entirely by local staff.
Eritrea is one of the countries in our Regional Programme for cardiac surgery. We send international teams on regular cardiology screening missions around the country, to identify new patients to be referred to our Salam Centre in Sudan, where they can have the surgery they need.
Once these patients have received surgery and returned home, they can come to the cardiology clinic in Orotta for coagulation checks, post-operative care, and follow-ups. This way, we can go on monitoring their state of health after surgery.
"On our most recent mission, last June, we saw 87 new patients. Seven of them had already been referred to the Salam Centre and operated on free of charge. Our next mission is planned for autumn and we will be focusing on follow-ups for patients who have already had surgery."
Since we began our project here in Eritrea, at the national referral hospital in Asmara, we have made 13 screening missions and approximately 10,000 check-ups. Our patients come from Asmara and elsewhere in the country.
So far, 227 people have been transferred to our Salam Centre for Cardiac Surgery in Sudan and operated on free of charge.
Training local staff
If we are to give full, continuous treatment to Eritrean patients, we must exchange skills with local staff, in person and constantly. So, we offer regular training sessions to reach a level of treatment that is always in line with international standards.
"I'm only fully satisfied when the patient is satisfied. It means we're doing good work."
The activities at the cardiology clinic are funded by the Italian Agency for Development Cooperation (AICS).