Iraq
Since 1995, EMERGENCY has treated over 600,000 people in Iraq (as of December 31, 2015).
EMERGENCY has worked in Iraq for over 20 years, responding to the needs of the population. In 1995, EMERGENCY reopened a hospital in Choman, a village in northeastern Iraqi Kurdistan near the Iranian border. This was followed by two Surgical Centers in Sulaimaniya and Erbil, a Rehabilitation and Social Reintegration Center for landmine victims, and a network of 22 First Aid Posts throughout the country to provide faster treatment and referral of patients in isolated areas.
During the early months of the coalition invasion of Iraq in 2003, EMERGENCY provided humanitarian aid to the population of Fallujah and critical medical supplies to keep surgical centers in Baghdad and Karbala open.
In 2005, EMERGENCY entrusted the local authorities with the management of the two Surgical Centers and of the network of First Aid Posts, which are now integrated into the national healthcare system.
Currently, there are hundreds of thousands of people who have been displaced in Northern Iraq. Families attempting to escape the war in Syria or the military advance of ISIS in Iraq have been forced to leave behind their homes and face journeys that are often difficult and dangerous. Some are able to find refuge with friends or relatives, or rent houses in areas that are still safe; others are forced to live in crowded camps set up in recent months by Kurdish authorities and international aid organizations.
EMERGENCY responded to this humanitarian emergency in July 2014 by expanding its operations in Iraq and opening Healthcare Clinics in the camps to provide free medical care to displaced Iraqis and Syrian refugees.
---
IRAQ / SULAIMANIYA REHABILITATION AND SOCIAL REINTEGRATION CENTER
---
Program Data
Capacity: 41 beds
National staff: 78
Patients admitted: 8,636
Physical therapy treatments: 46,662
Prosthetic limbs: 8,430
Trainees graduated: 525
Cooperatives started: 334
(Data correct as of December 31st, 2015)
---
Inclusion and empowerment for people with disabilities.
As a result of the 1981—1988 Iran-Iraq war, Iraqi territory remains riddled with more than 10 million landmines. These landmines kill and maim indiscriminately. Since the 1980s, over 30,000 children and adults have been harmed by landmines in Iraq.
In 1998, EMERGENCY established the Sulaimaniya Rehabilitation and Social Reintegration Center in response to the high number landmine injuries in Iraqi Kurdistan. The Center specializes in physical therapy, vocational training, and in the production of prostheses, orthoses, and walking aids/orthopedic devices for patients with disabilities and amputations.
In order to help restore patients' dignity and regain a livelihood for themselves and their families, the Center also provides vocational training in carpentry, woodwork, tailoring, and shoe-making. People who complete the vocational training are provided financial and management support to establish small business cooperatives and handicraft workshops.
Finally, EMERGENCY provides direct employment opportunities for people with disabilities: more than half of the Center's staff are former patients and individuals with physical disabilities.
---
IRAQ/ HEALTHCARE CLINICS IN REFUGEE AND IDP CAMPS
---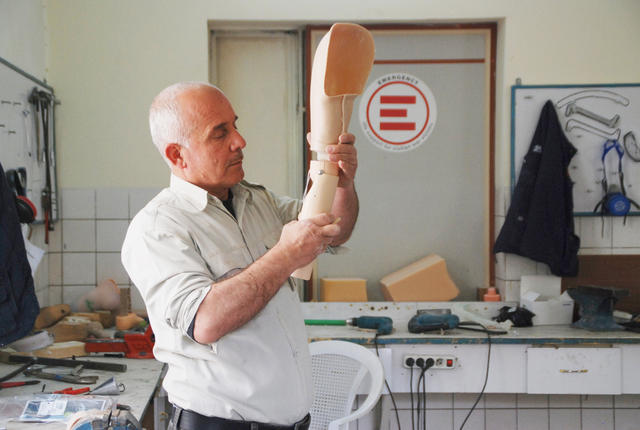 Program Data
Facilities: Outpatient consultation rooms, observation ward, laboratory, and pharmacy
National staff:181, including doctors, nurses and medical staff, administration and ancillary services personnel
Examinations carried out:123,456
*Total for the five active Health Centers.
Beneficiaries of Community Health Promoter Education: 73,349
(Data correct as of December 31st, 2015)
---
Since 2014, EMERGENCY has operated five Healthcare Clinics in northern Iraq for people who have been displaced and sought refuge in camps. Living conditions in the camps are difficult; there are not always enough tents in which to seek shelter, and supplies of running water and electricity are unreliable. The climate is harsh, with hot and dry summers, and cold and snowy winters.
The Healthcare Clinics treat common medical conditions including respiratory, gastrointestinal, skin and urinary tract infections, as well as chronic health conditions including diabetes and hypertension. The Centers provide gynecological and midwifery services for women, and a vaccination program for children.
Many of the doctors and nurses work at the Health Centers also live in the camps, and EMERGENCYs international staff provides local medical staff with practical training.
Community Health Promoters work in the clinics and in the camps to educate residents about health awareness, hygiene, and infectious disease prevention.
All the activities of the Healthcare Clinics are run with the support of WHO, UNHCR, and UNICEF, and in close cooperation with the local health authorities.