Providing socio-medical support at EMERGENCY's headquarters.
Socio-medical support for the most disadvantaged people in Milan.
Work at our Mobile Clinic began in Milan in 2015. Since then, our activity in the city has grown, with the opening of a help point at Casa Emergency – our head office – in 2018 and the "Nobody Left Behind" programme, which was launched in the pandemic but has broadened to become our "social project" in Milan.
A Mobile Clinic for the city's poorest districts
The Polibus is a bus repurposed as a Mobile Clinic, with a doctor, nurse, logistician and cultural mediators on board. We use it to provide primary healthcare, nursing, socio-medical and psychological support to anyone in need, but especially the homeless, migrants and other people from vulnerable groups in the city.
Our aim is to facilitate access to care by constructing paths into the national health service for people who, for whatever reason – bureaucracy and administration, not knowing their own rights, language or cultural barriers – cannot get into the system.
EMERGENCY's Mobile Clinic in Milan operates in several parts of the city (in the outskirts and around Centrale station).
Practical information
Working hours and addresses of EMERGENCY's Polibus and help point (click to download PDF).
Programme Data
Location: Milan, Italy
Start of clinical activities: March 2015
Activities: Primary healthcare, socio-medical support, psychological support, cultural mediation.
Facilities: Mobile clinics, help point.
Outpatient consulations: 57,325
(Data correct as of December 2022)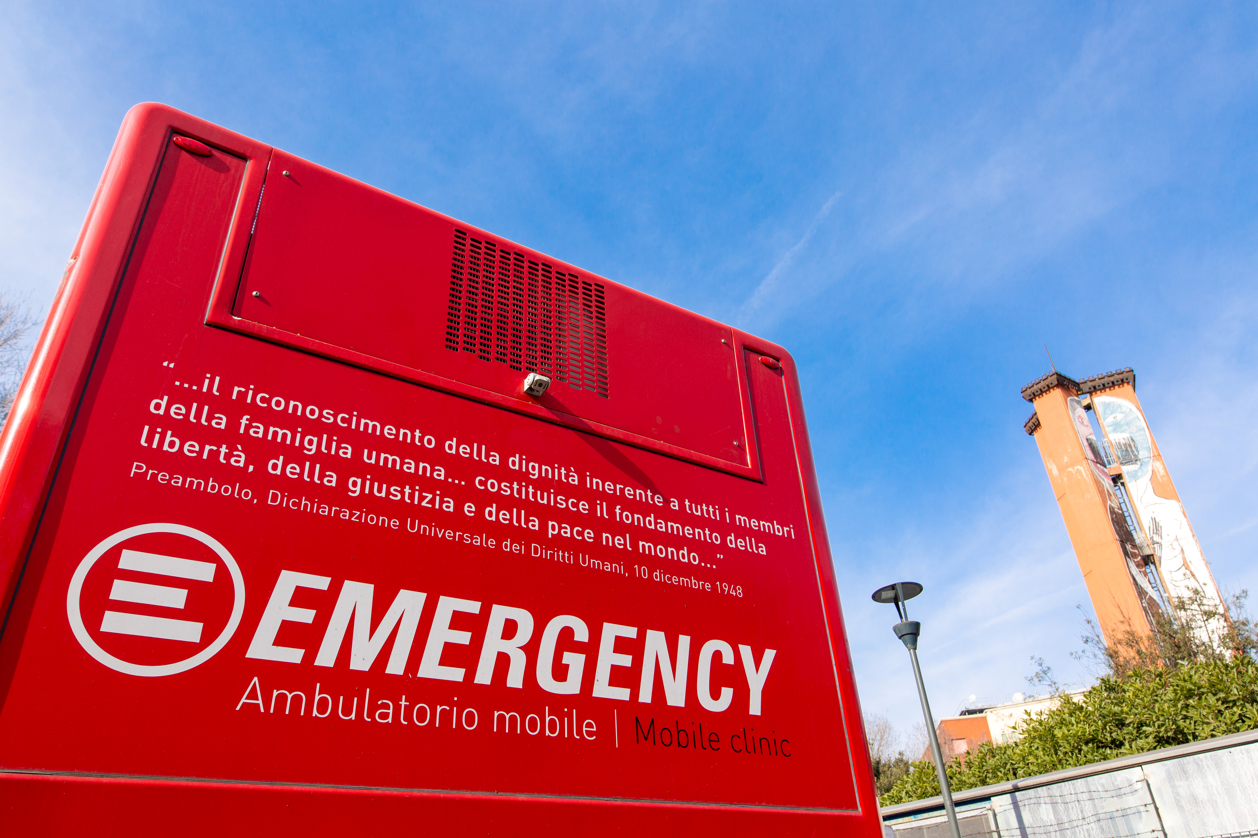 Socio-medical and psychological support
Our help point at Casa Emergency, at Via Santa Croce 19, was set up to provide psychological support. Now, it also offers medical assistance and nursing, in line with the mobile clinic's work, as well as cultural mediation, socio-medical support and paediatric services.
The aim of our socio-medical support project is to practise good basic medicine – and to demonstrate the importance of doing so. Our work helps strengthen the links between medical services and local people, which cannot be done simply by providing treatment; the relevant authorities must monitor the needs of everyone, especially those who are often overlooked.
We run this project with the help of local organisations and under an agreement with ATS Città Metropolitana Milano.
"Nobody Left Behind": EMERGENCY's social project
In January 2022 we started a project in Milan to assist and guide people into the local social services, from which a substantial portion of people in the city found themselves excluded.
Today the project's direct beneficiaries are the same people who received food under our initial "Nobody Left Behind" programme. In the project's first phase, during the Covid-19 emergency, we gave out food and goods to address basic material needs. In this second phase, however, the roughly 2,000 people are struggling less with basic goods, and more with accessing the welfare and services to which they are entitled (e.g., work, housing and benefits), so we are guiding them along a personal path to gain or regain their autonomy and financial independence.
Accessing Social Support
Many things in both the public and private realms can limit access to social support: a lack of information about how to access social services or whether one is allowed to in the first place, administrative hurdles, bureaucratic red tape, language barriers.
"Nobody left behind" aims to assist socially excluded groups of people in Milan find their way through the tangles of the (often fragmented) administrative system and access the services to which they have a right. Our aim is not to replace or replicate existing local services; it is to fill the gaps that prevent access to these services.
Each step flows smoothly into the next: we begin by identifying the beneficiary's needs, then give them information and mediation, guide them over the barriers and, once they have entered the services, make sure they have everything they need to go on integrating, developing and becoming completely independent. We monitor each person's progress, in regular meetings or brief phone calls, with a view to mutual trust and eventual success. Our approach seeks to make access to the network of private and public services fair and inclusive, for the benefit of the most vulnerable groups of people in Milan, both Italians and foreigners.
Switchboard and Minivan
To facilitate communication between the project's beneficiaries and our staff, we run a special switchboard for the project, so that anyone can ask for information or arrange a meeting with one of our social workers.
We hold these meetings either in gazeboes or on board EMERGENCY's Minivan, a refurbished camper-van that parks in certain areas of Milan on set days and times.
The project is run in partnership with various Milanese organisations: Supporto Popolare, Mutuo Soccorso and several branches of Brigate Volontarie per l'Emergenza have been at EMERGENCY's side since the toughest months of the pandemic, when they helped us hand out food packages around the city.
Practical information
You can call our switchboard on +39 02 86316890 to talk to one of our social workers about the help we provide under "Nobody Left Behind" and about support for accessing local services.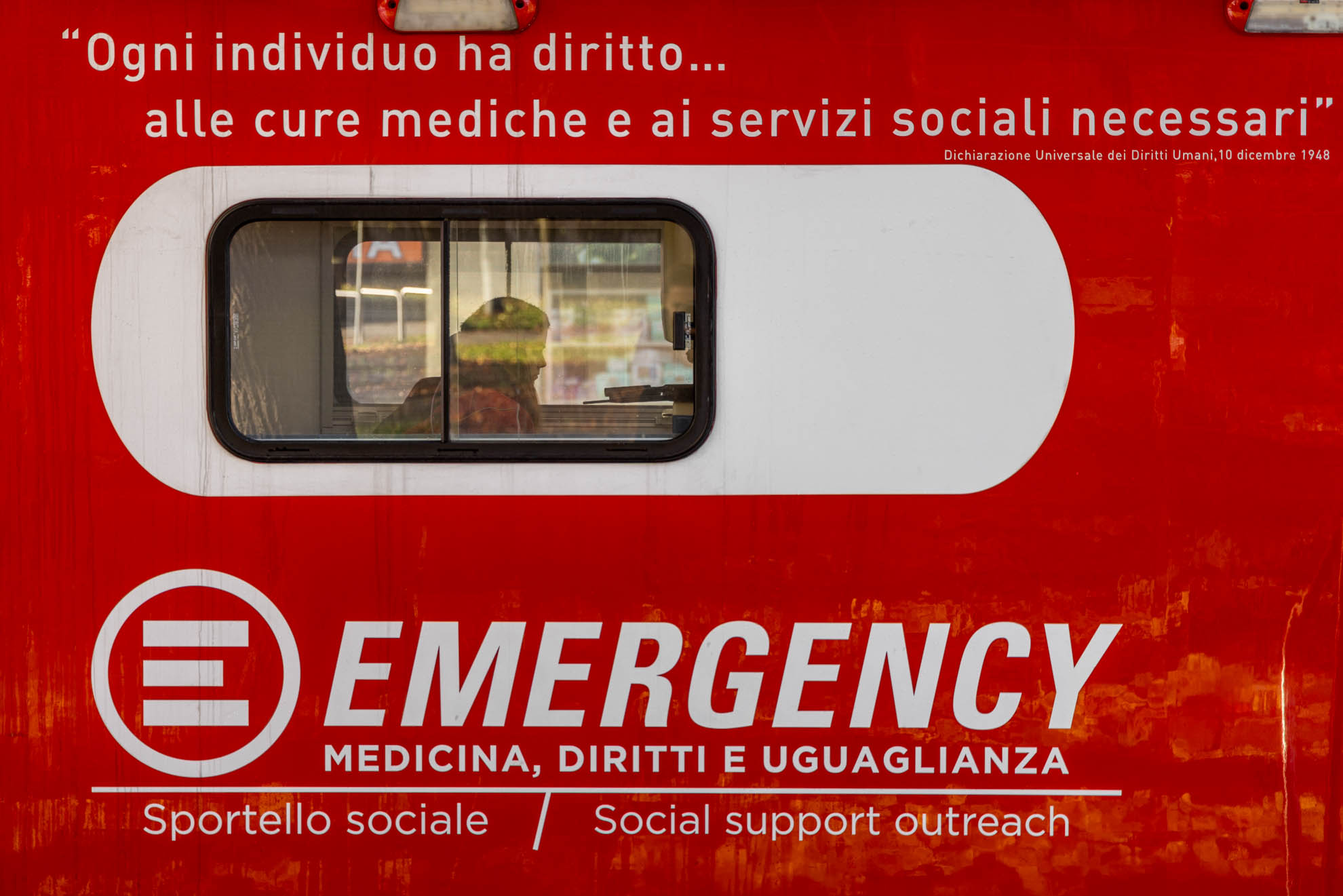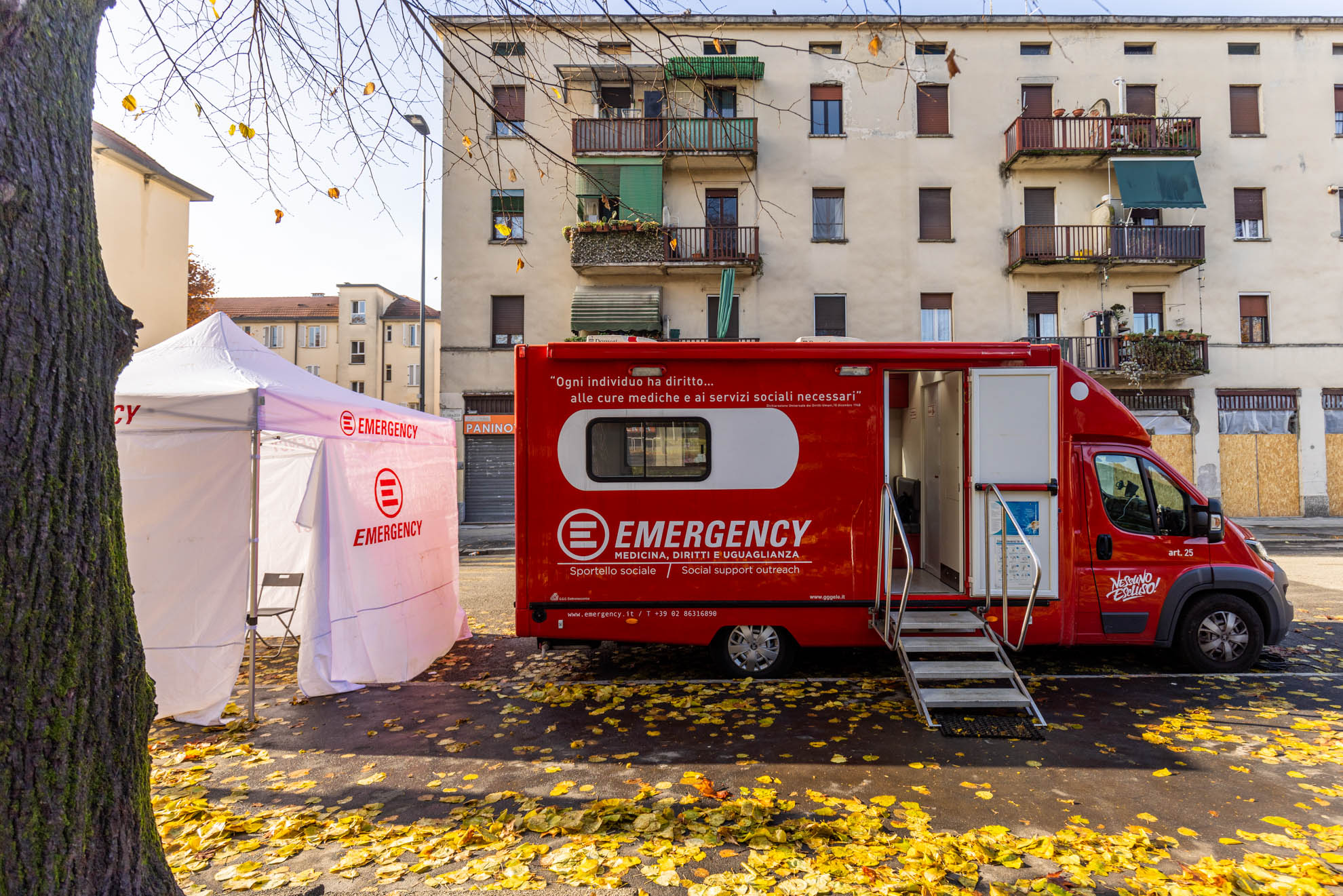 Our social project in Milan is carried out thanks in part to contributions from