Sierra Leone
Since 2001 EMERGENCY has treated over 530,000 people in Sierra Leone (as of June 30, 2015).
Sierra Leone is one of the poorest countries in the world, with more than 60% of the population living on less than US $1.25 a day. The average life expectancy is only 48 years, compared to 79 years in the United States.
The country still suffers the consequences of the bloody civil war between 1991 and 2002 that caused 75,000 deaths and displaced half a million people. During the war, nearly all the doctors and nurses disappeared or fled. Even prior to the onset of the Ebola crisis, the need for trained medical providers was profound: there were only 2 doctors for every 100,000 people (compared to 240 doctors per 100,000 people in the United States).
EMERGENCY has played a critical role in helping to fill the country's vast unmet healthcare needs since the civil war, when it opened a hospital in 2001 on the outskirts of Freetown. While the Goderich Surgical Center (GSC) initially specialized only in war surgery, the facility expanded over time to help meet the broader community's needs and now offers free, high-quality treatment in orthopedics, trauma and emergency surgery, and pediatrics.
Unfortunately, the unprecedented outbreak of Ebola Virus Disease (EVD) in 2914 devastated Sierra Leone's already struggling healthcare system. Sierra Leone had over 14,000 suspected EVD cases and nearly 4,000 deaths, triggering profound socio-economic consequences. While the lack of pre-existing healthcare infrastructure contributed to the spread of EVD, the spread of EVD simultaneously destroyed the remaining medical system, with over 400 healthcare workers infected.
EMERGENCY played an active role in combatting the EVD outbreak, setting up treatment centers and working to stop the spread of the infection. At the peak of the epidemic, EMERGENCY's Goderich Surgical and Pediatric Center was the only hospital in the country's capital that remained open to patients.
Program Data
Location: Goderich
Start of clinical activities: November 2001
Activities: Orthopedic, trauma and emergency surgery; emergency stabilization of trauma victims
Bed capacity: 85
Facilities:Inpatient: 3 operating rooms, intensive care unit, 6 inpatient wards Outpatient: Emergency room, outpatient department, physical therapy facility Support Services: Laboratory and blood bank, X-ray department, pharmacy
National staff: 420 medical and non-medical staff
Outpatients: 276,361
Inpatients: 32,250
Surgical operations: 38,582
(Data correct as of December 31, 2015)
---
The Surgical Center is the trauma referral center for the entire country.
EMERGENCY has played a critical role in helping to fill the country's vast unmet healthcare needs since the civil war, when it opened the Goderich Surgical Center (GSC) in 2001 on the outskirts of Freetown. EMERGENCY refurbished an abandoned medical clinic, transforming it into a modern surgical center. While GSC initially specialized only in war surgery, the facility expanded over time to help meet the broader needs of the community. Today the hospital offers free, high-quality treatment in orthopedics, trauma and emergency surgery. The Center has become the main hospital for trauma surgery in the entire country: many patients are referred from other hospitals, provinces, and even neighboring countries.
Thanks to our dedicated staff, the GSC was the only hospital in the Freetown area that remained open for patients during the Ebola outbreak.
First Aid Posts
While the Ebola outbreak has receded, the need for access to quality healthcare in Sierra Leone remains critical. In response to these overwhelming needs, EMERGENCY is expanding its services within the country by adding Healthcare Centers in Lokomasama and Waterloo.
These two new Centers, which recently intitiated activities between November 2015 and January 2016, help bring emergency healthcare to more remote areas. Patients can receive urgent medical care at the Centers—those that require surgery or further evaluation are stabilized and transported to the GSC by ambulance. In addition to saving lives, these Centers were created to provide training for national medical staff and health education to the local communities.
Program Data
Location:Goderich
Start of clinical activities: April 2002
Number of Surgical Patients Admitted: 13,365
Activities: pediatric medical assistance
Bed capacity: 14
Facilities: 2 Outpatient rooms, 1 changing room, store room. The Center shares medical facilities, domestic services and the guest house with the Emergency Surgical Center.
National staff: 43 medical staff
Outpatients: 234,232
Patients admitted: 16,314
(Data as of December 2015)
---
An average of 1,300 children are treated every month.
In 2002, EMERGENCY opened a Pediatric Center within the compound of the Goderich Surgical Center. EMERGENCY's staff see more than 100 children every day, suffering from common conditions such as malaria, respiratory infections and anemia. All children who need it are provided medication free of charge, and those who are more seriously ill can be admitted to the hospital.
In addition to general pediatrics, the Center also offers a nutrition program. In Sierra Leone more than 21% of children under 5 are underweight, which can impair a child's health and ability to learn and grow. Therefore, EMERGENCY monitors children's weight, and a nutritionist teaches mothers of children who are underweight how to prepare nutrient-rich, locally-available foods.
Since 2005, EMERGENCY's Center has been the only facility in Sierra Leone where esophageal lesions caused by the accidental ingestion of caustic soda can receive appropriate surgical treatment. Mothers use caustic soda to make soap and, unfortunately, children often drink it because it looks and tastes like water. Caustic soda burns the esophagus and causes internal scarring, making it difficult to eat. Patients need to undergo a procedure called esophageal dilation to resume eating normally.
In cooperation with EuropeAid, EMERGENCY also established a health education program for children attending 60 primary schools.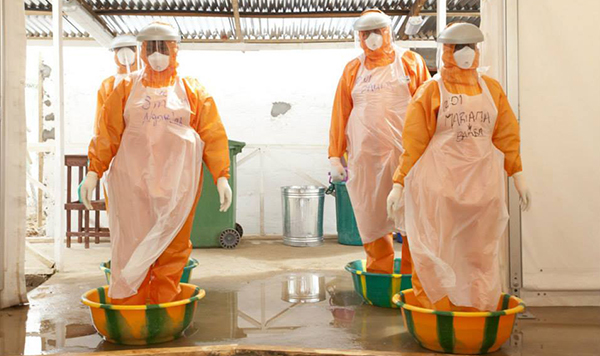 EMERGENCY was on the frontline in the battle against Ebola in Sierra Leone.
The first cases of Ebola Virus Disease (EVD) were detected in Guinea, followed by Liberia. By the time Ebola reached Sierra Leone in May 2014, EMERGENCY was prepared.
Staff at EMERGENCY's Goderich Surgical Center (GSC) and Pediatric Center – a hospital that receives patients from around the country and even neighboring countries – had been trained to detect possible infections and prevent spread of the disease. A new triage area was set up to limit contact between waiting patients and prevent suspected Ebola cases from entering the hospital; patients with possible Ebola symptoms were isolated while waiting for laboratory results to confirm the diagnosis; and procedures were implemented to monitor the health condition of all staff.
Meanwhile, EVD spread from the northern districts of Sierra Leone throughout the rest of the country. By mid-September 1,600 Sierra Leoneans had been infected, with 100 suspected cases in Freetown. Overcrowding in the capital city's shantytowns and poor hygienic conditions fueled the rapid spread of disease.
At the peak of the epidemic, more than 100 people a day were becoming infected with a virus that is potentially fatal in up to 90% of cases without appropriate healthcare. Sierra Leone's healthcare system—and the broader international community—was caught unprepared for the onslaught. Nurses and doctors often did not have adequate protective materials or knowledge of appropriate infection control measures, and a large number of the medical providers in public hospitals fell ill.
While hospitals everywhere were closing due to lack of doctors and nurses, EMERGENCY's Surgical and Pediatric Centers always remained open and our staff worked ceaselessly to provide critically needed care.
The Ebola treatment centers
As soon as we started diagnosing cases of Ebola in our hospital, it became apparent the existing Ebola Treatment Centers were unable to care for the growing number of people becoming infected.
In a race against time, and in response to requests from the Sierra Leone Ministry of Health and President, EMERGENCY opened our first Ebola Treatment Center (ETC) on September 18, 2014. The 22-bed ETC was located in Lakka, a short way from the capital.
With the virus continuing to spread rapidly and the Lakka ETC beds always full, EMERGENCY began planning for a 100-bed Ebola Treatment Center. The Goderich ETC, constructed in just 6 weeks with the help of funding by the British Government's Department for International Development (DFID), opened on December 13, 2014.
The Goderich ETC was the only one of its kind in the countries hit by the epidemic – equipped to the standard of hospitals in western nations with ventilators, dialysis machines, infusion pumps and monitors, allowing us to provide patients with the best possible care.
First Aid Post at Waterloo camp
As well as treating patients, EMERGENCY worked to prevent the spread of EVD. EMERGENCY opened a First Aid Post in Waterloo, a refugee camp where 22,000 people live. The overcrowded conditions facilitated the spread of EVD, making Waterloo one of the most Ebola-affected areas in the country. Nurses posted in the First Aid Post screened people with suspected infections and transferred them when necessary. Over 90 community healthcare workers were trained to identify the people in the camp that had come into contact with Ebola patients and monitor them daily, helping to curb the spread of Ebola.
While the EVD outbreak has now waned and the Ebola treatment centers have been sterilized and dismantled, unmet demand for medical and surgical services in the country remains critical.