To Be A Child In Afghanistan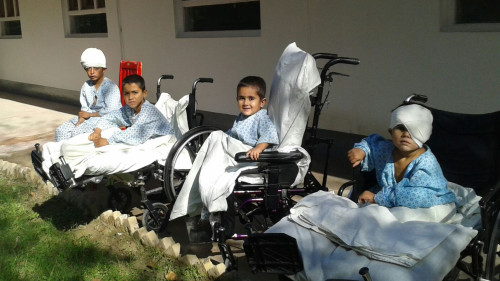 It's never going to be easy to live through war, especially for a child. But our staff do whatever they can to make it better.
Since the turn of the new year, violence has continued to surge in Afghanistan. With attacks targeting the international airport, near embassies in Kabul, and on a restaurant popular with foreigners, the intensity of the fighting looks set to remain high. Conflict in the country is far from over, and tragically, many of the victims are innocent by-standers. As Gino Strada, EMERGENCY's founder, noted in a recent speech, ninety percent of the victims we treat are civilians. Even more tragically, one third of them children.
"Here at our hospital in Lashkar-gah there are currently several children with spinal injuries caused by bullets or shrapnel from mines." says Alberto, an EMERGENCY anaesthetist in Afghanistan. One of these children is Parmina, an eight year old girl at our Lashkar-Gah Surgical Centre, in Southern Afghanistan. "She is four times unlucky," Sabrina, a Nurse at the Surgical Centre says, "because she was born in Afghanistan, because she was born a woman in this land, because she was hit by a stray bullet in the doorway of her house while she was playing with her sister, and because she is now paraplegic."
In a country ravaged by war over many decades, the free, high-quality assistance that EMERGENCY provides for children like Parmina is crucial for their treatment and recovery. "Here we see them improve," Alberto says, "we see them gradually recover their dignity, when they start to get out of bed and regain some autonomy while sitting in a wheelchair. The physiotherapy provided at the hospital achieves authentic miracles"
But their stay in our hospital can be long, and these children will often grow up with family members wounded, maimed, or killed in the fighting. The war is inescapable for those living through it. "This isn't what childhood or adolescence should be like for these children" says Elena, another anaesthetist in our hospital in Lashkar-Gah.
Knowing this, our staff do whatever they can to make these children's time in hospital more comfortable. Whether through playing with them each day, painting the white walls over their beds with colourful pictures of funny animals, or providing an outdoor play area, the care that EMERGENCY provides goes beyond just the surgical and medical.
---
If you'd like to support EMERGENCY's work providing free, high-quality surgical and medical assistance to the victims of war and poverty, please click here.