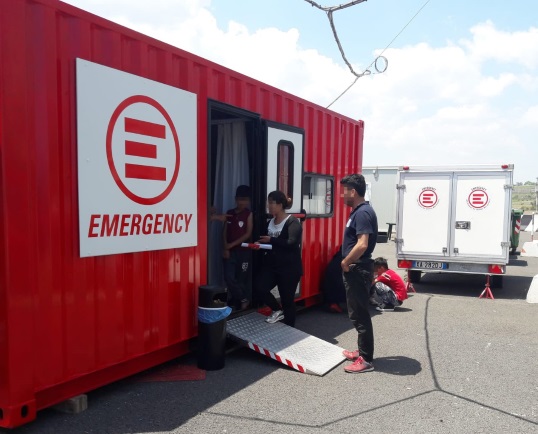 Italy/Afghanistan: I Understood That My Life Was In Danger
Approaching our mobile clinic at the pier in Augusta (Sicily), F's eyes fill with both joy and sadness as he recognises the EMERGENCY logo. "Two months ago, I was in your hospital in Kabul", he exclaims, turning to Ahmed, our cultural mediator. In the waiting room, before visiting the doctor, F. begins to tell us his story.
Before arriving in Italy, F. was a journalist and worked for an important Afghan television network. He knows our hospital in Kabul because he had come to identify the body of a colleague who died in an attack near their workplace. "Attacks on journalists have become part of everyday life in Afghanistan. After seeing so many colleagues die, I realised that my life was in danger too: I tried to apply for a visa at several European embassies, but none wanted to give me one. The only way to escape from that reality was to flee.
I managed to board a boat from Turkey and, after eight days of travel, we finally saw the Italian coast. I jumped with pure joy as I finally caught a glimpse of hope, but at that precise moment my suitcase fell. Inside I kept my documents, the articles I wrote, my journalist card. I dived into the water from the boat: these items were my only hope of getting some kind of asylum in Europe. I cannot swim, I swallowed a lot of salt water, but luckily I recovered it. My documents and I are safe."
F. does not know that, according to the European Union, Afghanistan is a "safe country" to which he could be repatriated.